Primer Series: Making PaaS Easy With Consumption-Based Models
This article is part of our WWT Primer Series, a collection of content focused on the fundamental understanding of complex technologies and solutions.
April 26, 2021
•
8 minute read
Do you ever attend meetings where the conversation turns to an unfamiliar technology? Suddenly a bunch of acronyms are being thrown around and you have no idea what they mean. Confused, you scan the room and notice that everyone else is nodding as if they know exactly what's being discussed.
We've all been there before. To help our valued customers make sense of it all, the engineers at WWT offer a continuing series of primer articles to provide a basic understanding of emerging products and technologies. This article introduces Platform as a Service (PaaS), its role as a business strategy and financial model in addition to an IT approach and the benefits of a consumption-based model, such as HPE GreenLake for PaaS.
A quick review of 'X as a Service' models
'X as a Service' is the collective term used to describe a wide range of IT services provided via the cloud that traditionally have been provided locally. A few such services relevant to this primer include:
Infrastructure as a Service (IaaS) – the ability to provision processing, storage, networks and other hardware resources via a cloud infrastructure, while software, applications and operating systems are run separately on top of the infrastructure.
Platform as a Service (PaaS) – integrated on-demand hardware and software acquired via the cloud.
Software as a Service (SaaS) – access to the cloud provider's productivity applications over a cloud infrastructure on a subscription basis.
Data as a Service (DaaS) – a delivery model in which data are provided to users on demand regardless of geographic or organizational separation between the data source and the user.
Platform as a Service emerges as a critical contributor to business transformation
PaaS has been around for a long time and is a proven technology, but previously it was viewed as a complex alternative IT model that some organizations were slow to implement. But now, facing greater demands on IT, attitudes are changing, and PaaS is gaining popularity as a force for business and IT transformation. In particular, it simplifies the process of keeping up with hardware and software innovations, implementing security best practices and managing capacity, all while minimizing costs.
Companies are implementing DevOps cultures that drive value for new products through continuous improvement and automation. A key enabler of this model is fast and flexible infrastructure. This market need is what PaaS addresses: a fast, flexible platform that frees up resources to take on other more important tasks, reducing time to market and time to value.
First viewed as an infrastructure alternative, PaaS is now seen as an essential business strategy for achieving flexibility and agility while optimizing capital expenditure and operational expense (CapEx and OpEx, respectively). And, it provides a clear window on shifting actual capacity costs to the appropriate lines of business.
PaaS brings the agility of the cloud to an on-prem solution through a consumption-based model that's critical for today's business transformation. WWT helps customers achieve those necessary benefits through an innovative solution: HPE GreenLake.
HPE GreenLake is the cloud that comes to you
Originally known as Flex Capacity when it was introduced more than a decade ago, HPE GreenLake today serves more than 1,000 installations globally. Its unified interface bridges the gap between hybrid and public cloud, bringing the cloud experience to users wherever they are — at the edge, in colocations and data centers all over the world.
HPE GreenLake offers a host of significant capabilities:
A broad portfolio of cloud services aligned to your operating model and your specific workloads, including virtual desktop infrastructure (VDI), SAP HANA, machine learning, high performance computing (HPC), hyper-converged infrastructure (HCI), data protection and more.
Simpler IT which frees up your resources by providing expertise to support, meter and manage your capacity needs while offering additional services to operate any or all of your IT stack.
CapEx and OpEx savings with an accurate pay-per-use model based on actual metered consumption, treating IT as an operating expense without the constraints of leases or buy-backs.
Scale up and down easily by always keeping capacity ahead of demand, without the need for a CapEx investment.
Continuous compliance monitoring tracked across the enterprise by a single dashboard, keeping you audit-ready and up-to-date with evolving regulations.
And, HPE GreenLake is the only cloud-to-you provider that offers Data as a Service (DaaS).
WWT works with customers and HPE GreenLake to accelerate digital transformation, modernize IT and help companies embrace emerging technologies quickly. The result is immediate time to value as IT expenses are better aligned with hardware usage — now and in the future as powerful new capabilities are introduced.
HPE GreenLake Central extends visibility across the service landscape
A key shortcoming in most data centers is the lack of a single, cohesive management portal. HPE GreenLake Central answers this need as an intuitive software platform that simplifies management across the entire hybrid estate. This self-serve, point-and-click portal and management console centralizes operations and insights across diverse services.
HPE GreenLake Central works with all cloud service providers to provide a single pane of glass view that IT managers need with new levels of visibility for deeper insights into operations:
Up to date information about resource costs and capacity.
Easy access to management capabilities for containers, virtual machines and more.
Greater ability to run cost comparisons, burn rates and other reports to determine real-time economics for any given solution.
More importantly, these insights extend beyond IT to other organizational stakeholders with unique interests and concerns:
Operations teams can assess IT availability.
Securities teams can monitor activity.
Finance managers can discern actual costs associated with any given variable, as well as financial forecasts.
Infrastructure teams can instantly assess what systems are online and offline.
Marketing strategists can glean insights into what new products or services they can spin up quickly.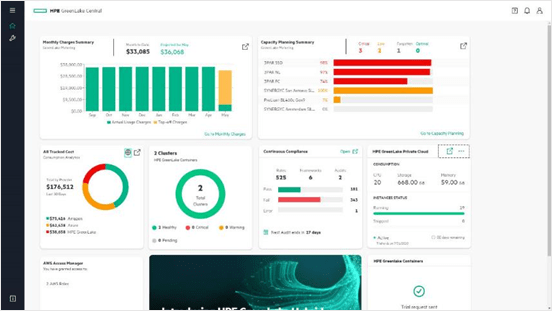 Maximizing performance with Intel® technologies
HPE GreenLake has the added benefit of including the latest Intel® technologies, such as:
Intel® Xeon® Scalable processors, delivering workload-optimized performance on demanding applications with built-in AI acceleration and hardware-enhanced security to support hybrid cloud infrastructures.
Intel® Optane™ technology to optimize, store and move large, complex data sets, bridging critical gaps in the storage and memory hierarchy for persistent memory, large memory pools and fast caching and storage.
HPE GreenLake delivers an enhanced PaaS Splunk solution
The value of HPE GreenLake can be illustrated by a key player in the U.S. financial services industry, which could not scale its Splunk environment sufficiently to ingest the necessary data to meet regulatory audit requirements; at the same time, financial organizations didn't want to own or manage underlying infrastructure.
To resolve the challenge, HPE partnered with Splunk and Intel to introduce HPE GreenLake PaaS to deliver an on-prem cloud experience, which ensured regulatory compliance and performance. With asset management by HPE GreenLake, data center infrastructure efficiency was achieved with a 90 percent reduction in the number of server nodes needed, a 10x decrease in infrastructure, and a 17x indexer throughput improvement. HPE GreenLake was the only solution that would allow Splunk to perform as it should cost-effectively, and the customers incurred no upfront cost. HPE owns the technology, which is billed monthly based on daily usage.
It was a notable example of the HPE GreenLake advantage over running Splunk in the public cloud — a costly option. Instead, HPE GreenLake brings it on-prem with the flexibility to run the right workloads economically and at the right time.
WWT helps customers achieve the benefits of HPE GreenLake PaaS
WWT sees PaaS as more than just another IT delivery option but rather an essential business and IT strategy that will soon explode in relevance for the modern data center. Together with our long-term technology partners HPE and Intel, WWT is excited by the possibilities presented by HPE GreenLake for resolving the traditional infrastructure challenges of capital expense, obsolescence, complexity, capacity, security and lack of agility. With HPE GreenLake, customers get the fast, flexible resources they need, when they need them, in areas such as HPC, advanced analytics, AI, machine learning and more.
At its heart, HPE GreenLake is about enabling true business transformation through PaaS: allowing IT organizations to handle demanding workloads, unlock insights that turn information into innovation, protect security and eliminate complexity — all while optimizing CapEx and OpEx. WWT has the proven expertise to help implement the best cloud-to-you solution.
You can learn more with HPE's GreenLake Center Overview.