Cisco Virtualized Infrastructure Manager (CVIM) Full Pod Lab - Central DC
Solution Overview
Cisco Virtualized Infrastructure Manager (CVIM) is a fully automated cloud lifecycle management system. Cisco VIM helps to bring up a fully functional cloud in hours, with integrated end-to-end control and data plane verification in place. Cisco VIM offers fully automated day 1 to day n cloud lifecycle management. These include capabilities such as pod scaling (expansion), software update, upgrade, or reconfigure parameters, consolidated logging with rotation and export, software update and upgrade. These have been implemented in line with the operational and security best practices of service providers and enterprises.

Cisco Virtualized Infrastructure Manager (CVIM) abstracts much of the complexity of setting up and managing a cloud, providing a simple installation process along with a host of operational and validation tools. The integrated tools within CVIM allow operators to test reliability, scalability, and performance of the infrastructure, thereby optimizing their network resources and lifecycle management processes.

CVIM is built for full lifecycle management of your software and hardware. It allows you to easily control and manage your NFV infrastructure (NFVI) compute, storage, and network resources.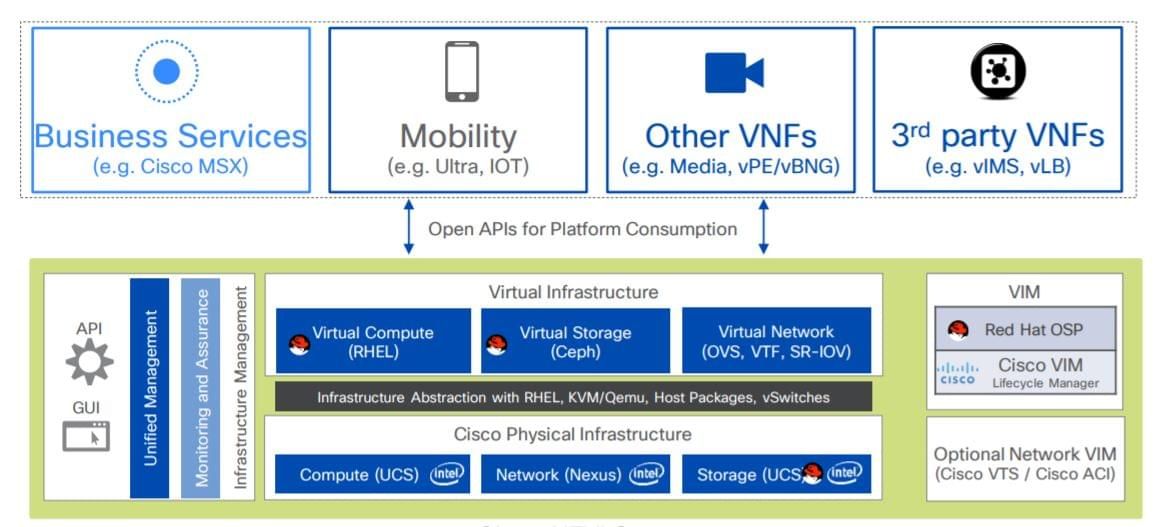 Goals & Objectives
The goal of this lab is to provide users with access to a complete Cisco Virtualized Infrastructure Manager (CVIM) 3.4 reference architecture deployed as a full pod at a central or core data-center. It enables the user to validate VNF support for the following CVIM lab features -


RHEL 7.6 with OSP 13 (Queens)
NIC Support - Cisco VIC 1457 (10G/25G) & Intel XXV710 (25G)
Data-plane flexibility - VPP/VLAN, SRIOV
Enhanced Platform Awareness (EPA) - NUMA, CPU Pinning, Huge Pages, SRIOV with Intel NIC
VM Migration - Cold Migration and Resizing, Live Migration
Storage - Block storage with Ceph, Netapp Solidfire for Cinder
Standardized interfaces - Provides comprehensive and well-defined RESTful APIs for transparent external integration

The CVIM full pod is optimized for capacity and high scale for the following centralized/core services or applications or use cases -


Virtualized managed services e.g. vCPE/SD-WAN, vFW/NAT etc.
4G/5G mobile internet services e.g. AMF, SMF, PCF, vSAEGW-CP, vMME, vIMS, vPCRF, vGi-LAN etc.
Content Delivery Network (CDN) e.g. video content source
Hardware & Software
Hardware
Core DC (Full Pod)
UCS C240 M5 24SFF
2 x Intel Xeon-Gold 6142
512GB RAM
2 x 1.2 TB HDD
2 x 960GB SSD
1 x Cisco VIC 1457 Quad Port 10/25G SFP28 MLOM
2 x Intel XXV710-DA2 10-Dual Port 25G NIC
NetApp SolidFire H410E
H410E-0001-C
H410S-31110
H410C-58020
Leaf Switches

Spine Switches

Mgmt Switches

Software
RHEL 7.6 with OSP 13 (Queens).