Tanium 7.4 Proving Ground Lab
Solution Overview
WWT's ATC Tanium Proving Ground Lab exists to provide a unified solution built around relevant use cases. It seeks to showcase an architecture that solves the business problems our customers are currently facing, including patch management, threat detection, asset management, software license reclamation and continuous compliance.
This lab consists of several servers running Tanium 7.4, Splunk and Nessus, as well as a number of user workstations. All Tanium modules are configured to show functionality. In addition, Splunk is used to show how Tanium data exports can be used to create valuable insights.
You will access the environment using a Windows-based jumphost from which you can browse web consoles, open RDP/SSH sessions, etc. (see topology).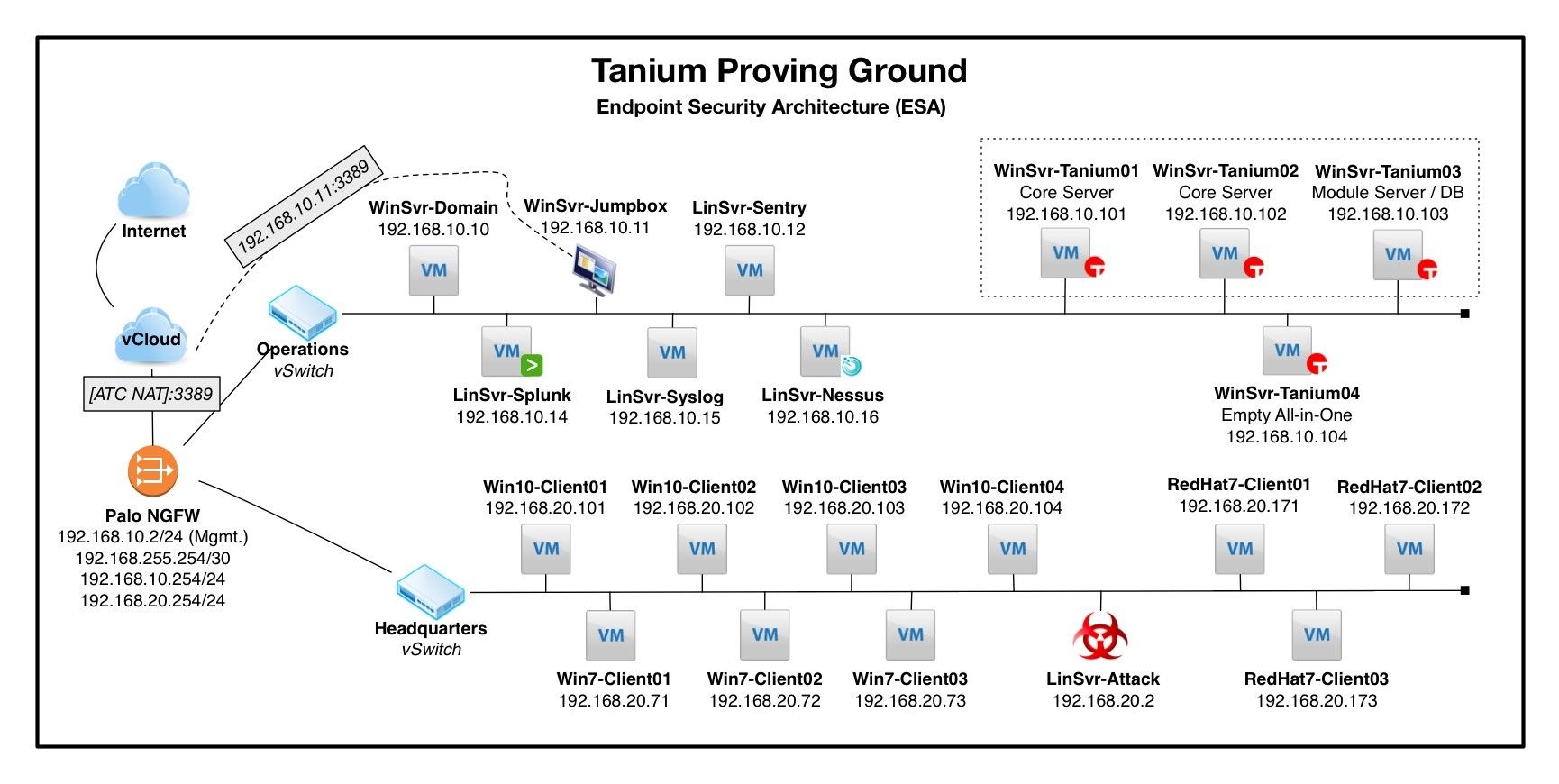 Goals & Objectives
The purpose of this lab is to help you develop proficiency in deploying, managing and monitoring the Tanium solution. The lab guide provides a flexible framework for evaluating the solution, its installation and behavior in a sample customer environment.
The lab environment will allow you to:
Access the Tanium Proving Ground environment.
Login to the cloud-based portal.
Navigate the portal's interface and workflow.
Deploy agents on Windows systems.
Deploy agents on Linux systems.
Hardware & Software
Software
Tanium 7.4 Core Platform
Splunk log collector
Nessus vulnerabilty scanner
Palo Alto VM-series firewall

Server Devices
1x Windows Jumphost (Windows Server 2016)
4x Tanium Servers (Windows Server 2016)
1x Splunk Server (CentOS 7)
1x Syslog Server (CentOS 7)
1x Nessus Server (CentOS 7)
1x Utility Server (CentOS 7)

Client Devices
4x Windows 10 Clients (Windows 10 Enterprise)
3x Windows 7 Clients (Windows 7 Enterprise)
3x Red Hat Clients (Red Hat Enterprise Linux 7)
1x Attack Host (Kali Linux)
Tanium Proving Ground: Environment Overview
In this video, you'll learn the basics of the ESA Tanium Proving Ground. We will review the architecture and types of endpoints installed, how to access them through the jumpbox, and how they are configured to integrate with Tanium.
Go to Video