Facilities Infrastructure Assessment
The goal of the facilities infrastructure assessment is to provide you with a clear picture of your data center's current state, actual capacity, reliability and vulnerabilities so that you have the information you need to begin the road mapping process to a brighter, more efficient and sustainable data center.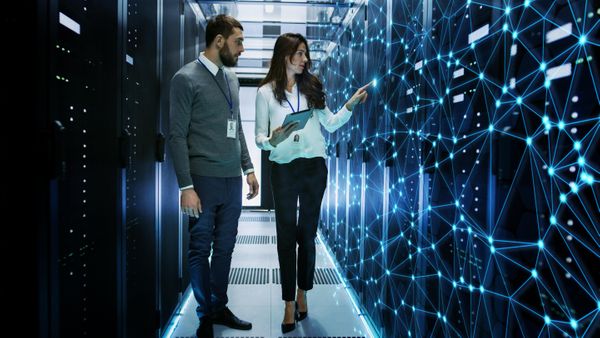 Details
Organizations often lack the detailed information to make critical decisions when it comes to realizing the full potential of their data center. This information is essential and provides the roadmap to help drive growth, updates and expansions of a data center and evaluate improvements to support future IT investments.
By weighing your data center's effectiveness and reviewing maintenance records and all critical infrastructure equipment, we will provide recommendations to reduce inefficiencies, increase capacity, adhere to industry standards, and make corrections in power, cooling and space deficiencies -- all while driving towards a sustainable overall environment.
We offer a variety of assessment levels, from entry-level to extensive (see chart below), along with custom options designed to scale to your specific goals and budgets.
All levels of our facilities infrastructure assessment follow the same process:
Discovery and information gathering
Infrastructure analysis
Evaluation, findings, report and recommendations
Deliverables, presentation and outcomes
And because good data collection requires a clear process to ensure the data is clean, consistent and reliable, this assessment focuses on capturing data in four methods: observational, experimental, simulation and derived. The data obtained under these methods allows organizations to measure the effectiveness of a given strategy to overcome a business challenge.
How is this assessment offered?
We use a consistent approach to every assessment but are nimble enough to offer a range of options from hourly in-person consultations to answer your immediate questions, remote consultations when site access is restricted, and all-inclusive on-site consultations for the most complete evaluation.
You'll walk away with a benchmark document that can be used as the departure point for mitigating vulnerabilities, improving reliability and availability, identifying efficiencies, and adding sustainable solutions that will be central to your long-term planning.
Reach out to our Facilities Infrastructure team to ensure your data center environment will support your infrastructure modernization or consolidation plans.