Seamless mobility for dynamic opportunities
Mobility is more than a technology investment — it's a means to seize opportunity. Seamless mobility empowers new employee experiences, multi-geo communication and the exploration of new lines of business. We help organizations recognize the opportunity and create a strategy that moves them into the future.

Allow employees to use bandwidth-intensive applications anywhere in the office

Bolster mission-critical applications by prioritizing traffic that can't afford dropped connections

Adopt a more data-centric approach by processing data from connected devices in real time

Boost operational agility and drive cost savings by eliminating wired connections

Enhance security with greater control over the network and who or what accesses it

Future proof wireless investments as manufacturers and providers continue to focus on delivering innovative mobility solutions
What's new in mobility?
Check out the latest perspective from our experts in the field.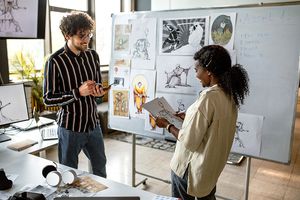 Capitalize on the latest waves in Wi-Fi
Many on-site employees no longer have permanent workstations, increasingly move around the office throughout the day and rely on bandwidth-intensive applications to connect with remote peers. The dense capacity architectures of Wi-Fi 6 and 6E provide superior experiences for today's mobile employees.
Leverage a reliable and controllable network
The low latency, highly mobile nature of private wireless networks provide a cost-effective, secure and future-proof approach to enterprise connectivity. Leverage private LTE today to enable key use cases -- from IoT connectivity to eliminating expensive cabling to expanding outdoor coverage -- and be well positioned to take advantage of future 5G capabilities.
Deliver innovative managed services
5G transformation is a massive exercise in strategic planning, capital allocation and execution. The faster operators can mature their 5G capabilities, the sooner they'll return value on their investment. Rapidly deliver innovative managed services by validating with speed and integrating complex multi-vendor solutions at scale.