About HPE & WWT
As a Hewlett Packard Enterprise (HPE) Platinum Partner, WWT is a leading provider of advanced compute, storage and cloud solutions. Through our partnership with HPE, we help organizations optimize their IT environments to deliver services that transform their business. This growth has largely been facilitated by WWT's Advanced Technology Center (ATC) and North American Integration Center (NAIC), where customers can explore, evaluate and gain hands-on access to a variety of HPE technology and deploy them seamlessly. The ATC is an HPE-certified Cloud Center of Excellence (CCOE) and provides customers with demonstrations and proof-of-concept environments to explore and evaluate HPE cloud, compute, converged systems, storage and management. WWT also utilizes HPE's GreenLake (aaS) offerings to provide customers with an on-prem cloud experience.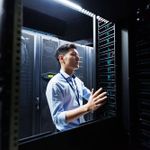 Start your journey today
Learn more about our HPE capabilities, speak with an expert or take advantage of what we have in our labs.