Security Orchestration and Automation Readiness Assessment
During this assessment, WWT's experts will help you identify how automated tasks can be combined into orchestrated processes to increase the efficiency and efficacy of security operations in your environment.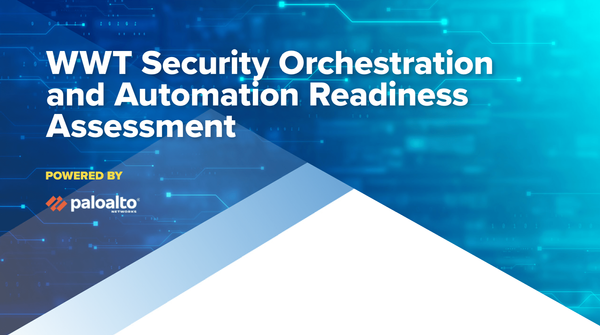 Details
Security operations today is a formidable enterprise.
Security organizations have invested in many best-of-breed technologies that while having independent value, create silos of visibility and generate too many alerts to manage. These disjointed tools also create complexity and latency in the investigation and response process, making it difficult for analysts to quickly understand context, determine root cause and identify the criticality of an incident.
Security analysts must manually correlate data across systems, tools and teams to respond to threats in their environment, leading to long investigation and response times, not to mention frustrated resources.
To combat these operational challenges, organizations are increasingly looking to leverage orchestration and automation to amplify existing investments, standardize processes, accelerate response and reduce risk. WWT has extensive experience assisting organizations with their automation journey, helping your security organization become more proactive and resilient.
Key drivers for security operations and automation:
Growing alerts
Lack of skilled analysts
No consistent processes
Limited visibility
Disparate infrastructures
Long mean time to respond (MTTR)
How can orchestration and automation help my organization?
Security orchestration, automation, and response solutions, or SOAR, increase SOC efficiencies with a tightly integrated offering of security orchestration and automation, case management, and real-time collaboration. These solutions act as a force multiplier for your team, making security operations more efficient, reliable, and cost-effective.
What to expect:
In this assessment, we'll work strategically to:
Review your top incident response workflows and identify opportunities for optimization and standardization.
Identify areas for improved integration of security tools and intelligence sources.
Identify opportunities to improve team efficiency and collaboration.
Define key performance indicators and reporting needs.
Develop a roadmap for adopting automation in your operational environment.
Benefits of this assessment:
Reduced complexity in your operational environment.
Consistent, transparent, and documented processes.
Optimized tool integration and utilization.
Quicker resolution time and better investigation quality.
Improved analyst productivity and enhanced collaboration.
With SOAR, security teams can:
Standardize and scale processes through playbooks that span across products, teams, and use case.
Reduce alert volumes and response times by up to 90 percent with task automation across all of their existing prevention and detection investments.
Adapt to any security alert with completely auditable case management.