CPMigrator Saves Government Agency $11M and Slashes Migration Time by 66 Percent
WWT's tool migrates 220,000 devices to Windows 10 within six months with no disruption to business operations, saving organization $11M in Microsoft fees.
About the Department of Defense Agency
A large healthcare agency within the Department of Defense utilizes 220,000 Windows 7 devices at various locations across the United States. The agency is responsible for coordinating care for more than 9.5 million beneficiaries. Reducing end-user disruption and avoiding data loss are critical.
Challenge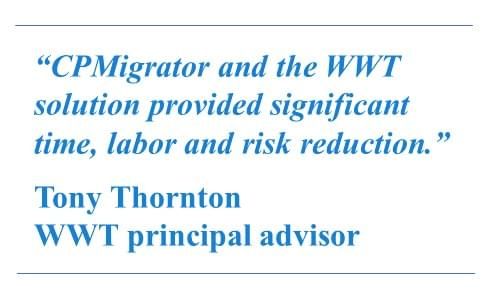 The DOD knew each of its many agencies needed Windows 10 migration plans to avoid substantial financial penalties from Microsoft for not migrating prior to January 14, 2020. They were also aware of the major security risks and virus vulnerability of using an outdated operating system. The DOD instructed its organizations to update their end-user systems from Windows 7 to Windows 10 prior to the Microsoft deadline.
A large healthcare agency within the DOD understood the magnitude of this request and the impending Microsoft penalties of $11 million, so they turned to WWT to upgrade its 220,000 devices that were distributed across the United States.
Due to the critical nature of their business, the agency could not experience a loss of employer or contractor productivity, and data protection was of the utmost importance.
WWT Solution
As one of the agency's trusted technology partners and a Microsoft Gold Certified Partner, WWT was uniquely qualified to design and implement a migration strategy for the organization. After briefing the agency on CPMigrator, WWT's proven tool that quickly migrates customers of any size to Windows 10 remotely or on-site, WWT went into action defining a solution which incorporated endpoint security and systems management. Augmented by expert project management, a consistent implementation plan and an experienced WWT technician stationed at each agency location, WWT helped the agency meet the compliance deadline on time and within budget. Using a low-touch strategy while leveraging the speed and scalability of CPMigrator, all 220,000 devices were updated to Windows 10 within six months.
Developed in 2011, CPMigrator has been used in the successful migration of more than one million devices to Windows 10 in the government and business sectors. With a 99.9 percent data retention rate and a Certificate of Networthiness (CoN) from the DOD, CPMigrator allows devices to:
Easily migrate user profile data and settings without affecting end-user productivity, security or network operations.
Install new Windows client OS in a fraction of the time of traditional deployment tools while avoiding rebooting methods typical to Windows migrations.
Reduce manual efforts by re-installing applications on a mandatory or logic-based conditional basis.
Automate OS settings changes.
Coupled with endpoint management, CPMigrator met the DOD agency's stringent requirements.
Business Outcomes
Choosing the WWT solution, the DOD agency realized significant savings in time and money while maintaining data integrity.
Time: The migration of 220,000 devices was completed in six months, an impressive achievement considering manual migration of that magnitude would typically take 18 months.
Labor: CPMigrator reduced technician time from six to two hours per device—a 66%-time savings—while maintaining all end-user profile data and personalization settings. Adding to labor savings, end-user disruption was minimal, and it was business as usual throughout the software migration.
Data Integrity: Data retention was imperative for the DOD agency. Zero loss was experienced on all 220,000 devices throughout the migration. In addition, the agency was able to start taking full advantage of the advanced security features of Windows 10 instantaneously.
"Avoiding substantial financial penalties from Microsoft and reducing end-user disruption throughout the migration process was critical to this DOD agency," reports WWT's Principal Advisor Tony Thornton. "CPMigrator and the WWT solution achieved both of these goals while providing significant time, labor and risk reduction."