Cloud services: It all starts with strategy
Cloud has made it easier for businesses to become more resilient in the face of unexpected change. But even after a successful migration, it can be difficult to harness cloud's full potential — especially if you don't have a plan for ongoing cloud optimization.
That's where the importance of strategy comes in. The right cloud strategy can help you unlock new revenue streams, solutions and savings today while laying the groundwork for the next-generation experiences and business outcomes of tomorrow.

Our cloud services
Each cloud journey is unique. Using a proven, outcomes-focused approach, we help clients achieve cloud maturity in an iterative fashion​. Our services span the entire cloud lifecycle — from strategy development and migration to integration and ongoing optimization.
Our Cloud Migration services help clients move the right applications and workloads to the right cloud for their business needs. Our Cloud Operating Model services help clients establish the proper governance, security, products, platforms, skills, processes and best practices needed to expertly operate, scale and manage their cloud footprint.
Our cloud maturity model
An easier way to scale and optimize capabilities
We've developed a Cloud Maturity Model to help organizations mature their cloud capabilities across their people, processes and technology. No matter where you are in the journey, from zero cloud presence to a fully cloud-enabled organization, we can help you get the most out of your investment:
Speed application time-to-market with a well-rationalized cloud strategy.
Simplify and secure applications through automated infrastructure and delivery.
Enable innovation with a best-practices cloud services architecture.
Reduce costs by effectively combining multiple cloud services.
Achieve visibility into consumption and optimize cloud spend.
And more!
More consulting services from WWT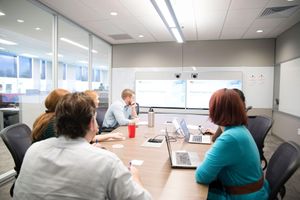 Consulting Services
Combining the insights of a traditional consulting firm with the ability to execute complex infrastructure solutions at scale globally.