Upcoming and on-demand events
Online or in person, WWT offers a variety of events to collaborate, connect and grow in the digital world.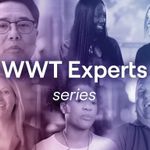 Event
webinar
WWT Experts: Jennifer Huber on Wireless Networking
Grab a quick dose of deep expertise with the WWT Expert series. In each episode, our host poses topical questions to a WWT Expert. Learn about the business solutions these experts have created, the technologies they've mastered and the trends they're seeing in the marketplace. All in 30 minutes or less. During this episode, our host Tony Berg, VP/CTO of Engineering and Architecture, will be joined by Jennifer Huber, Technical Solutions Architect, Mobility. Jennifer will discuss WWT's expertise across a range of wireless networking topics with a focus on the new roles that wireless networks are playing in the new hybrid work models that organizations are facing. She'll also cover how wireless and mobile networks are advancing and inter-operating, and she'll share some future trends she's excited about in this space.
Nov 18, 2021 • 1 pm (CST)