The WWT K-12 Community
The WWT K-12 community is where K-12 customers can meet to discuss and collaborate on common issues. Share best practices. And learn about solutions that can help them overcome some of their daunting challenges.
Welcome to the World Wide Technology K-12 Community. This community is designed to allow you to collaborate with other K-12 organizations and World Wide Technology (WWT) experts.
Todays K-12 organizations are challenged from a variety of different areas. WWT has deep expertise in Networking, Next Generation Wireless, collaboration applications and Security. You have access to WWT experts that can help you understand how those solutions can meet you needs.
WWT offers briefings and workshops to help K-12 customers to address their challenges in a variety of different ways. From consultative engagements and solutions to financial options, WWT is your one stop shop. Below are just 4 of our many briefings and workshops that may be helpful to K-12 customers.
Big 3 Digital Learning Platforms Overview
Digital learning has become integral to how a K-12 educates today and into the foreseeable future. Great learning platforms should be simple to schedule and join, as they foster engagement and collaboration from each participant, whether remote or in person. This one-hour briefing will focus on the three leading technologies for video meetings.
Next-Gen Wireless Workshop
Many wireless networks in operation today were designed as networks of convenience for conference rooms and common areas, and are now struggling to support the number of wireless devices and applications now in use. Clearly Wireless connectivity has gone from nice to have to must have in a ubiquitous manner. Wireless technologies, devices, and applications are evolving at a rapid pace, making it increasingly difficult to future-proof the network.
Security Tools Rationalization Workshop
The concern of cyber security breaches within the K-12 community are on the rise. Organizations grappling to figure out, just how secure are we? With so many security solutions in the market, it is critical for an organization to understand if and how these solutions are adequately protecting the infrastructure and securing vulnerable data.
Returning back to school
Almost every institution has a different approach as to how to safely return back to school. However, the challenges are very similar. How do we keep students and staff safe? How do we create a first line of defense against individuals that could harm the greater on-site population? How do we promote collaboration while maintaining social distancing? At World Wide technology, we believe we have some of the answers to address these difficult questions.
Here is some information on how to work with WWT.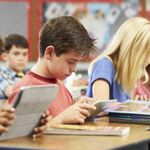 E-rate Experience
The WWT E-rate community is where Education customers can meet to discuss and collaborate on utilizing E-rate funding, share best practices, and learn how E-rate can help them overcome some of their daunting challenges.
Looking for resources to educate your customers?