Your Next-Gen Wireless Network
Public community
Owned by KC Grun

WWT has created a best-in-class environment to allow for side-by-side proofs of concept using real-world use cases, allowing for easy comparison of capabilities and features between OEMs. Our unbiased, vendor-independent experience and expertise with wireless access and mobility helps IT provide secure access to users while delivering high-performance connectivity to every endpoint.
Learn why WWT is leading the way in Wireless Access:

No Bad Wi-Fi
Gain visibility into your network and discover how to expand coverage.
Are You Prepared?
For 5G and the W-Fi 6 disruption? What you need to know now.

Upgrade to Wi-Fi 6?
Meraki, Ekahau, and WWT experts discuss why and how to upgrade to Wi-Fi 6.
Event
webinar
TEC37 Networking Series E03: How to Lay the Groundwork for Wi-Fi 6
It's not a question of if your organization will move to a Wi-Fi 6 infrastructure but rather when. While the market has touted the speeds and feeds of Wi-Fi 6, little has been said about how organizations should prepare for a successful Wi-Fi 6 deployment. Join host Robb Boyd as he speaks with WWT's Jennifer Huber, Technical Solutions Architect; Steven Buhler, Business Development Manager; and special guest Keith Parsons, Managing Director of the Wireless LAN Professionals, Inc. They'll discuss the foundational components that need to be in place before Wi-Fi 6 deployment, including common blind spots.
Mar 24, 2021 • 11 am (CDT)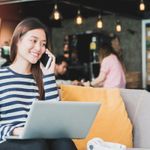 Compare our labs
Our Advanced Technology Center (ATC) is like no other testing and research lab. It is a platform built on a collection of physical labs, virtualized to create a collaborative innovation ecosystem. Use it to test or compare solutions in a replica of your environment without impacting operations.
Ready for a deeper dive with one of our experts?
WWT can help your enterprise leverage and harness the appropriate tools (Wi-Fi 6, 5G, CBRS/pLTE) in this two- to four-hour strategy workshop focused on identifying your unique use cases and wireless hardware needs.
Start a discussion
Provide the following information and get the conversation started!
Let WWT help pinpoint the benefits your organization can achieve and what to prioritize on the journey to your next-generation wireless network.
Contact us today