Now is the time to make a new world happen.
WWT is excited to once again partner with Global Citizen as we seek to spark a movement that will change the world for the better.
Together, we're taking action to:

Demand equity for all
Everyone should have the opportunity to pursue their passions and reach their full potential.

Invest in a sustainable future
Protecting our people and planet through sustainable and responsible business practices.
Join the movement
On Saturday, September 23, Global Citizen Festival will return to the iconic Great Lawn of Central Park in New York City to drive urgent action to End Extreme Poverty NOW. Joining Global Citizen will be Red Hot Chili Peppers, Ms. Lauryn Hill, Megan Thee Stallion, Anitta, Conan Gray, D-Nice, Sofia Carson, and Stray Kids.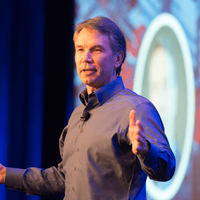 Jim Kavanaugh
World Wide Technology
Co-Founder and Chief Executive Officer
-WWT CEO Jim Kavanaugh speaking at Global Citizen Festival
Fostering a sustainable future
We are committed to making a positive impact on the world.
We place unrelenting focus on producing business outcomes for others -- a passion that spills over into our ability to make a positive impact in the communities we live, work and play. Our commitment to giving back is critical to empowering our people, who empower our business and help make a new world happen.