Now is the time to make a new world happen.
WWT is excited to once again partner with Global Citizen as we seek to spark a movement that will change the world for the better.
The 10th anniversary of the Global Citizen Festival -- set for Sept. 24 in New York City -- will celebrate a decade of impact with the world's most popular artists. A simultaneous live show in Africa and performances from across the globe will focus on driving commitments towards defeating extreme poverty now.
Together, we're taking action to:

Demand equity for all
Everyone should have the opportunity to pursue their passions and reach their full potential.

Invest in a sustainable future
Protecting our people and planet through sustainable and responsible business practices.
Don't miss a single moment
Catch performances from Metallica, Charlie Puth, Jonas Brothers, MÅNESKIN, Mariah Carey and others as the demand a more sustainable and equitable future at the Global Citizen Festival in New York City and Ghana.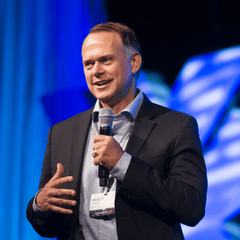 Matt Horner
World Wide Technology
Executive Vice President
-Matt Horner, speaking on stage at Global Citizen Live 2021
We are committed to making a positive impact on the world.
We place unrelenting focus on producing business outcomes for others -- a passion that spills over into our ability to make a positive impact in the communities we live, work and play. Our commitment to giving back is critical to empowering our people, who empower our business and help make a new world happen.