Make a new world happen.
This simple phrase encapsulates our ambition and what we do — not just for our customers, but for our people and communities across the globe.
We are thinkers and doers. We combine strategy and execution to help organizations accelerate growth and realize a brighter future. We turn complex technology solutions into a practical and actionable way forward. Then we help deliver them globally.
A culture of innovation lies at our very core. You can see it in our people. We live and breathe change every day because we believe in doing whatever it takes to help organizations accelerate growth by connecting them to the right technology. And delivering it around the world.
In a world that is less end to end, we connect everything together
We look at the entire process — from beginning to end — by delivering both strategy and execution, acting as a bridge between business and technology, and blurring the lines between the physical and digital. In doing so, we remove the barriers to digital transformation.
We develop real, collaborative partnerships with our customers to connect their organizations to new possibilities.
We see the opportunities and make change happen fast. Infrastructure modernization is at the core of what we do for your network, data center and everything in between.
We design technology to deliver the best business outcomes, and we test the viability of solutions in our Advanced Technology Center.
Before drawing upon our global operations supply chain to implement them at scale — anywhere around the world.
We see the opportunities and make change happen fast.
What we do
We operate at the forefront of innovation and progress, working with our clients all over the world to take them into the future.
Conquer the speed and complexity of technology.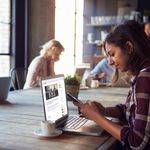 WWT at a glance
WWT is a financially strong, privately held global technology service provider with over 30 years experience servicing the world's largest and most innovative organizations.

Founded in 1990 and privately held for more than 30 years

Approximately 9,000 employees globally

$17 billion in annual revenue

Solution provider for more than 70 of Fortune 100 companies

Top Partner with Cisco, HPE, Dell Technologies, NetApp, F5, Intel, VMware and many others

"Great Place to Work" 12 years in a row
Get started today
Don't see what you're looking for or want to learn more?