Ultimately ideation breaks down a business problem to create deliverables that will make an immediate impact to an organization.
Sessions range from four to six hours and go through several phases of group brainstorming to discover new ideas and then work to prioritize the ideas to focus on. Each ideation session revolves around a central question and key objectives that are set by the session's sponsor in advance. Facilitators will use this information to plan out appropriate activities to generate insights and outcomes supportive of the central question. Activities at the beginning of the session will establish and confirm the relevance of the central question, while also assessing connections and priority between ideas brainstormed and the central question.
Facilitators will then use a variety of ideation techniques to engage with the group during the session including group discussion, individual writing and reflection, conversation mapping, sketch and visual modeling and perhaps physical modeling. Participants should be prepared to engage and share during the session – participants will spend some time working individually, working with partners or small groups and working and sharing with the large group.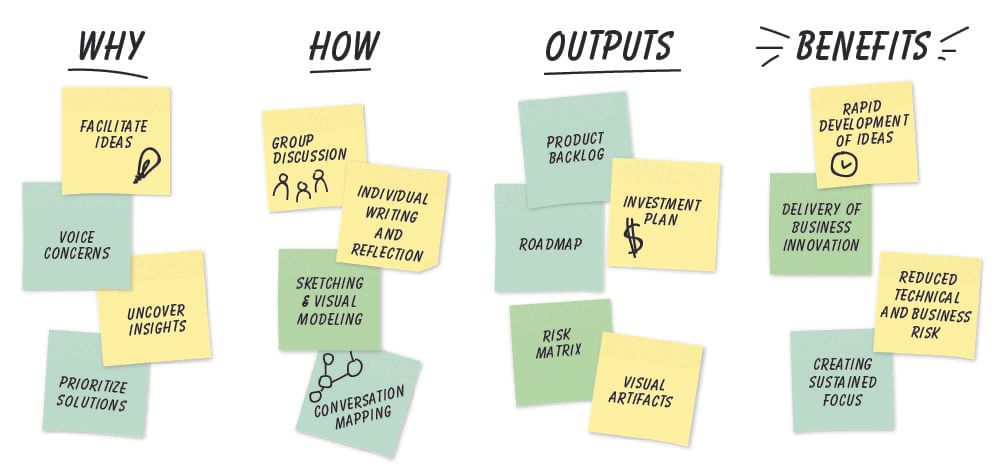 Following the ideation session, facilitators will complete post-processing activities to capture all data generated during the session. Facilitators will decide in advance with the session sponsor on the desired format and depth of ideation proceedings to compile – the wording of the central question may lead to certain types of proceedings being compiled, such as a product backlog, a road map, an investment plan, a risk matrix, etc.
Proceedings typically include a summary of all ideas generated, visual artifacts (photos/sketches) created and a recommendation on next steps based on the insights and ideas gathered during the session.