Empowering clinicians.
Engaging patients.
Protecting data.
Supporting innovation.

Our real-world healthcare expertise enables us to help our partners drive efficiency and scale to transform their legacy business models. As a trusted advisor and top VMware partner, we deliver technology solutions that empower clinicians, engage patients, protect and leverage data, support the Internet of Things (IoT) and foster innovation.
Healthcare digital transformation powered by VMware
Our expertise coupled with VMware solutions helps healthcare organizations achieve desired business outcomes.
Empowering clinicians
Caregivers need streamlined workflows that reduce computer login times and easy access to the right devices and information at any time.
Engaging patients
Provide patients and their families hospital-issued devices so they stay connected to need-to-know health information.
Protecting data
Keep protected health information (PHI) secure wherever it's located — data center, care systems, endpoints, IoT devices — through intrinsic, zero-trust security.
Supporting innovation
Improve business agility through data center virtualization and modernization with the ability to easily extend to public cloud.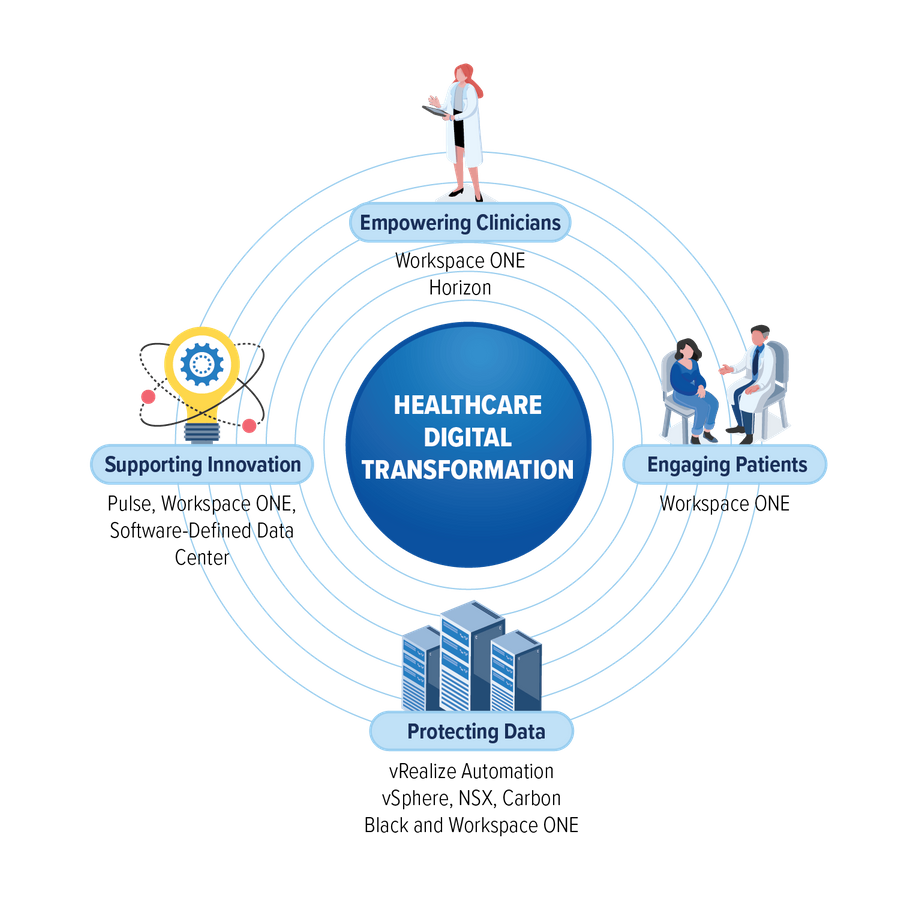 Explore more VMware solutions
Dive deeper into our labs, workshops and resources to discover how VMware solutions can help you achieve your digital transformation goals.
Our work
From idea to outcome, we work with providers to improve patient experience through patient and clinician mobility, updating networks to boost security, virtualizing servers and desktops to lower IT overhead, and applying big data analytics to better assess patient health trends.
Connect with our Healthcare experts