Empowering clinicians.
Engaging patients.
Protecting data.
Supporting innovation.
Our real-world healthcare expertise enables us to help our partners drive efficiency and scale to transform their legacy business models. As a trusted advisor and top VMware partner, we deliver technology solutions that empower clinicians, engage patients, protect and leverage data, support the Internet of Things (IoT) and foster innovation.
Our expertise coupled with VMware solutions helps healthcare organizations achieve desired business outcomes.
Empowering Clinicians
Caregivers need streamlined workflows that reduce computer login times and easy access to the right devices and information at any time.
Engaging Patients
Provide patients and their families hospital-issued devices so they stay connected to need-to-know health information.
Protecting Data
Keep protected health information (PHI) secure wherever it's located -- data center, care systems, endpoints, IoT devices -- through intrinsic, zero-trust security.
Supporting Innovation
Improve business agility through data center virtualization and modernization with the ability to easily extend to public cloud.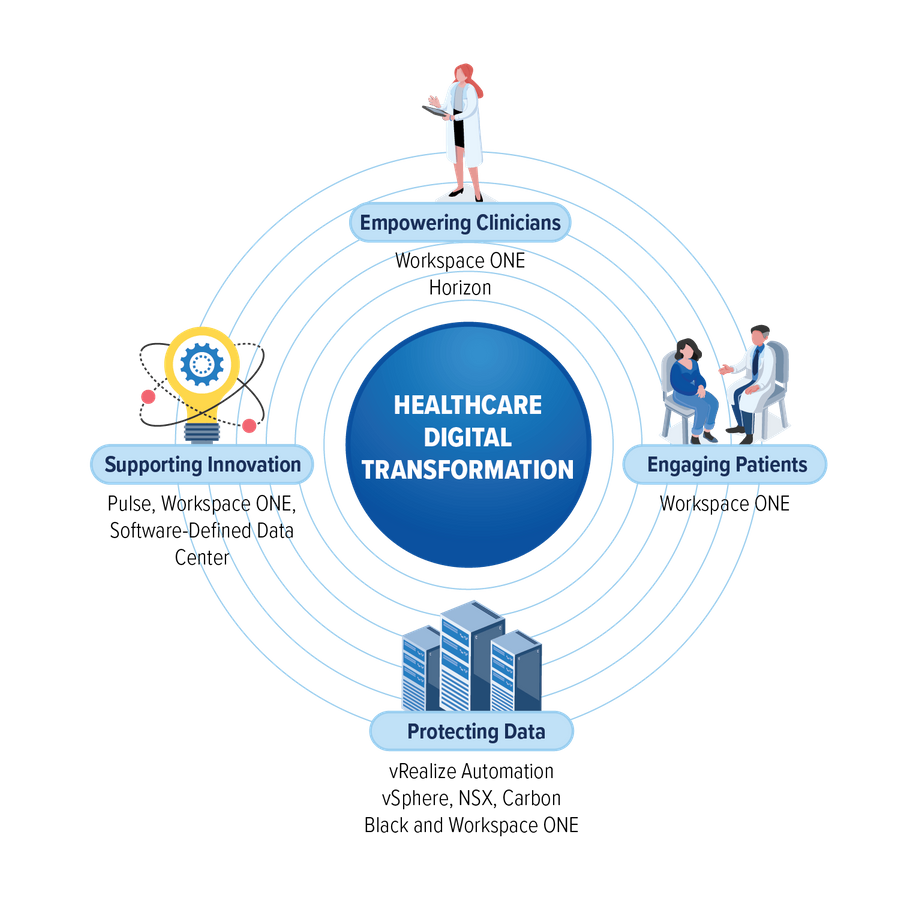 Explore VMware Solutions
Dive deeper into our labs, workshops and resources to discover how VMware solutions can help you achieve your digital transformation goals.
Our Work
From idea to outcome, we work with providers to improve patient experience through patient and clinician mobility, updating networks to boost security, virtualizing servers and desktops to lower IT overhead, and applying big data analytics to better assess patient health trends.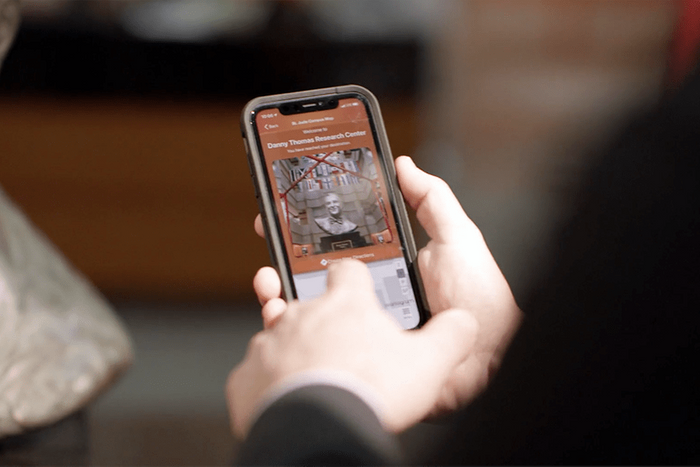 Engaging Patients
We partnered with St. Jude to create a customized patient experience through advanced technology.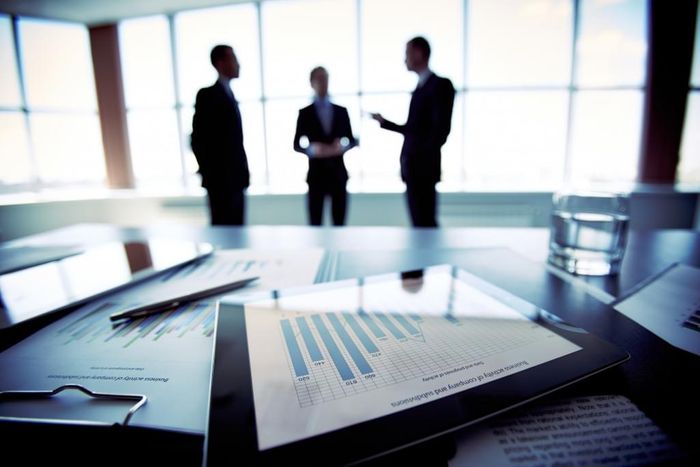 Strengthening Security
We provided a risk assessment of a healthcare organization's certified electronic health record (EHR) technology.
Leveraging Data
Our chief healthcare advisor Justin T. Collier, M.D. discusses the critical areas that healthcare organizations must consider when building a data strategy and how WWT can help every step of the way.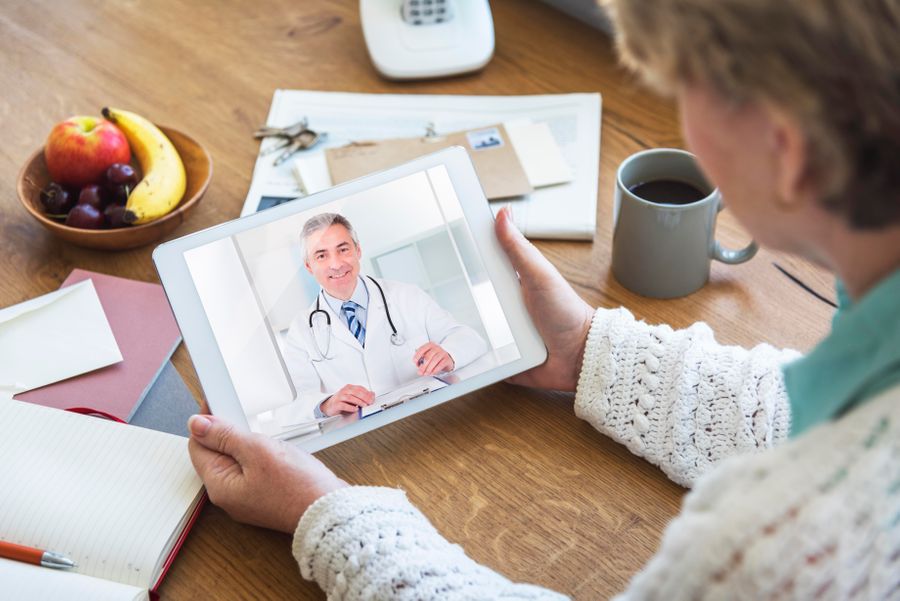 Connect with our Healthcare Experts
Our chief healthcare advisors along with our experienced consultants, engineers and architects have industry experience developing solutions that enable reliable, available and sustainable healthcare environments.
Dr. Collier is a Physician Executive with dual ABMS Board Certification in Clinical Informatics and PM&R. He leads the Healthcare Industry practice at WWT, focused on delivering healthcare improvement through transformational projects for our clients. Dr. Collier collaborates and coordinates efforts among our OEM partners and internal WWT teams to assure the best outcomes are achieved. Leveraging WWT's unique capabilities, he works to enable and accelerate innovation and transformative initiatives that improve care, increase efficiencies, upgrade patient experience, streamline clinical workflows, enhance team communication and empower collaboration.
Dr. Cordes is a Physician Executive with more than 18 years of healthcare and health tech leadership experience. She is an entrepreneur, investor and international speaker with a track record for helping organizations grow revenue through disruptive innovation. Some of her past roles include CEO of DotCom Therapy, a leading teletherapy provider of speech, occupational, and behavioral therapy to schools, consumers, and health systems; Principal & Founder of Value Prop Shop, the only consulting firm exclusively working with venture firms and their health tech portfolio companies to develop and execute on commercial and product roadmaps; Chief Commercial & Operations Officer at health tech startup healthfinch, Inc.; and Chief Development Officer of Cogent Health, a company that sold tech-enabled physician services.
As a Physician Executive, strategic thought leader and healthcare innovator, Dr. Quiñones is passionate about improving clinical outcomes, reducing the cost of care, enhancing the patient experience and minimizing clinician burnout through digital healthcare transformation. For more than 20 years he has helped organizations -- from the U.S. military to Fortune 500s to start-ups -- bridge the clinical and digital divide to achieve strategic and innovative goals. He has accomplished much of this work as Clinical Director at Allscripts; Physician Manager at Deloitte; Director of Clinical Information Systems at DaVita HealthCare Partners (now Optum Health); National Director of Healthcare at Slalom; and recently as VP of Medical Affairs & Business Development at the revolutionary clinical decision support start-up, Decisio Health.
Related Reading