Accelerating Terraform with OneFuse
Solution Overview
It's no secret that integrating tools and infrastructure platforms are creating complexity for modern enterprises.
More tools = More complexity = More Custom Coding to Automate Processes
OneFuse facilitates and simplifies end-to-end automation by abstracting underlying integration complexity and presenting varying cloud infrastructure integrations as services that can be reused again and again.
OneFuse policies ensure governance conformity and reduce the need for domain or coding expertise. WWT offers hands-on OneFuse training labs to help customers learn how to easily automate in a codeless fashion.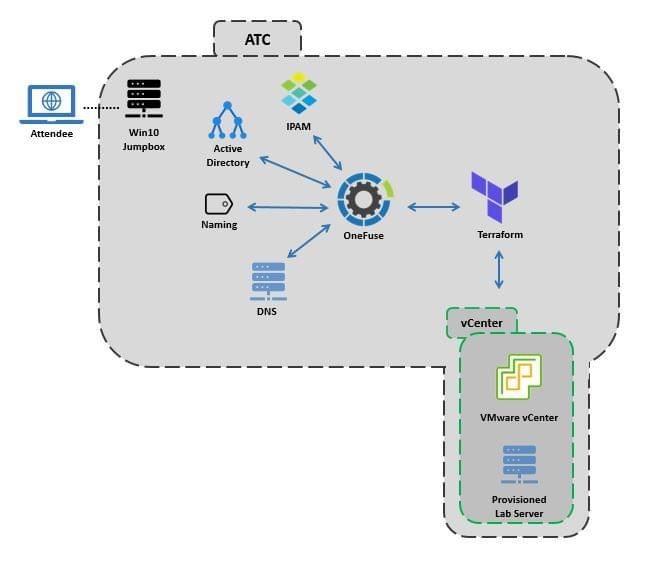 Goals & Objectives
Automating with OneFuse is easy, simple, and efficient!
The purpose of this lab is to provide hands-on training for automating foundational IaaS processes using OneFuse policies. These policies can be leveraged from automation tools such as Terraform, vRealize Automation, Ansible, ServiceNow and others. Basic use cases with Terraform will be demonstrated with VM deployments using vSphere and Terraform open source.
If you'd like to learn more about how OneFuse integrates with additional cloud providers, integrations or advanced capabilities such as variable abstraction, tagging, or other Terraform versions such as Enterprise and Terraform Cloud, please reach out to us. Details can be found in the Resources section below.
The following scenarios are contained within the lab:
OneFuse Naming: Generating custom names with/out sequencing and validation
OneFuse IPAM: Reserving and release IP Addresses with Infoblox

Additional technologies supported: BlueCat, Men&Mice and SolarWinds

OneFuse DNS: Reserving and release DNS records with Microsoft DNS

Additional technologies supported: BlueCat, Men&Mice and Infoblox

OneFuse Active Directory: Add and remove computer accounts to a specific OU in Microsoft Active Directory
OneFuse Property Toolkit: Dynamically drive Terraform configurations