Accelerating vRealize Automation 8.x With OneFuse Lab
Solution Overview
It's no secret that integrating tools and infrastructure platforms is creating complexity for modern enterprises.
More tools = More complexity = More Custom Coding to Automate Processes
OneFuse facilitates and simplifies end-to-end automation by abstracting underlying integration complexity and presenting varying cloud infrastructure integrations as services that can be re-used again and again.
OneFuse policies ensure governance conformity and reduce the need for domain or coding expertise. WWT offers hands-on OneFuse training labs to help customers learn how to easily automate in codeless fashion.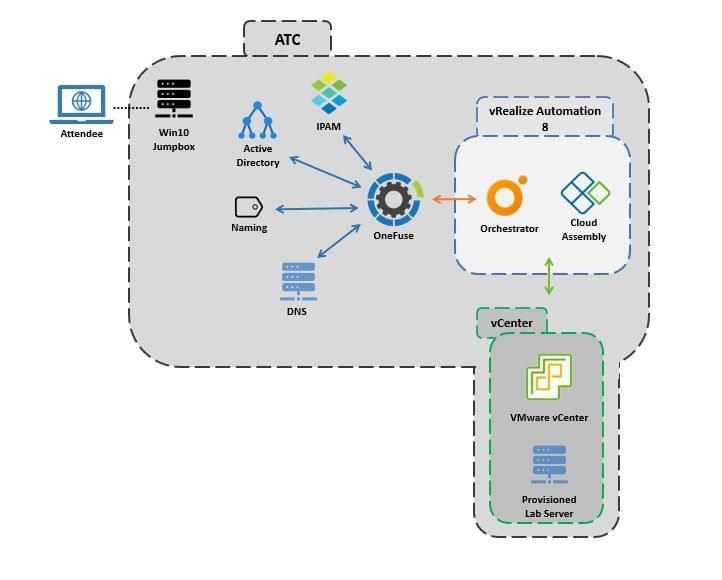 Goals & Objectives
Automating with OneFuse is easy, simple and efficient!
The purpose of this lab is to provide hands on training for automating foundational IaaS processes using OneFuse policies with vRealize Automation 8.x. These policies can be leveraged from automation tools such as Terraform, vRealize Automation, Ansible, ServiceNow and others. Basic use cases with Terraform will be demonstrated with VM deployments using vSphere and Terraform open source.
Included Training Modules
Module 1 - Naming
- Machine Naming
- Deployment Naming
Module 2 - IPAM
Module 3 - DNS
Module 4 - Active Directory
Each of these modules take approximately 30 to 45 minutes and do not need to be completed in order. You can revisit the lab at a later time and start at a location you wish.
This lab is full access.
You are encouraged to explore, break and expand your knowledge of OneFuse, vRA8, vCenter and or any other application presented in this lab.
Note:
Lab assumes basic understating of vRA8.x (Cloud Assembly, Orchestrator), vSphere 6.7+, DNS, Active Directory and networking terminologies.