Arista EVPN VXLAN 101 Lab
Solution Overview
The Arista VXLAN EVPN 101 lab was designed to be completed in approximately 8 hours. Some students without exposure to BGP or VXLAN may take longer. In today's fast-paced environments it may take a student several days to complete the lab or possibly multiple weeks due to workloads and scheduling.
This was taken into account and the lab guide is broken up into 10 topics and 10 labs each relating to the topic. If a student does not have the time to complete the lab in one day we have extended the lab time from the normal 2 days to 5 days.
If a student cannot move to the next section due to work or other commitments, they can launch a new lab after theirs has expired and easily use supplied zip files and instructions for each lab section to return to where they left off.
The lab's goal is to build out the configuration snippets for each step and push them to the devices using CVP to create the topology below. We also explain all of the various Arista Specific commands, design and configuration best practices, as well as learn to use CVP for day 0 and day 1 designing and build the VXLAN fabric and for day 2 operations of the VXLAN fabric. Each section we build one of the VXLAn building blocks explaining the configurations and validating the configuration. There is also a troubleshooting section where we introduce errors to the finished fabric and troubleshoot. Finally, there is an extensive day 2 operation guide on how to use CVP on a daily basis to monitor, manage and troubleshoot your Arista EVPN fabric.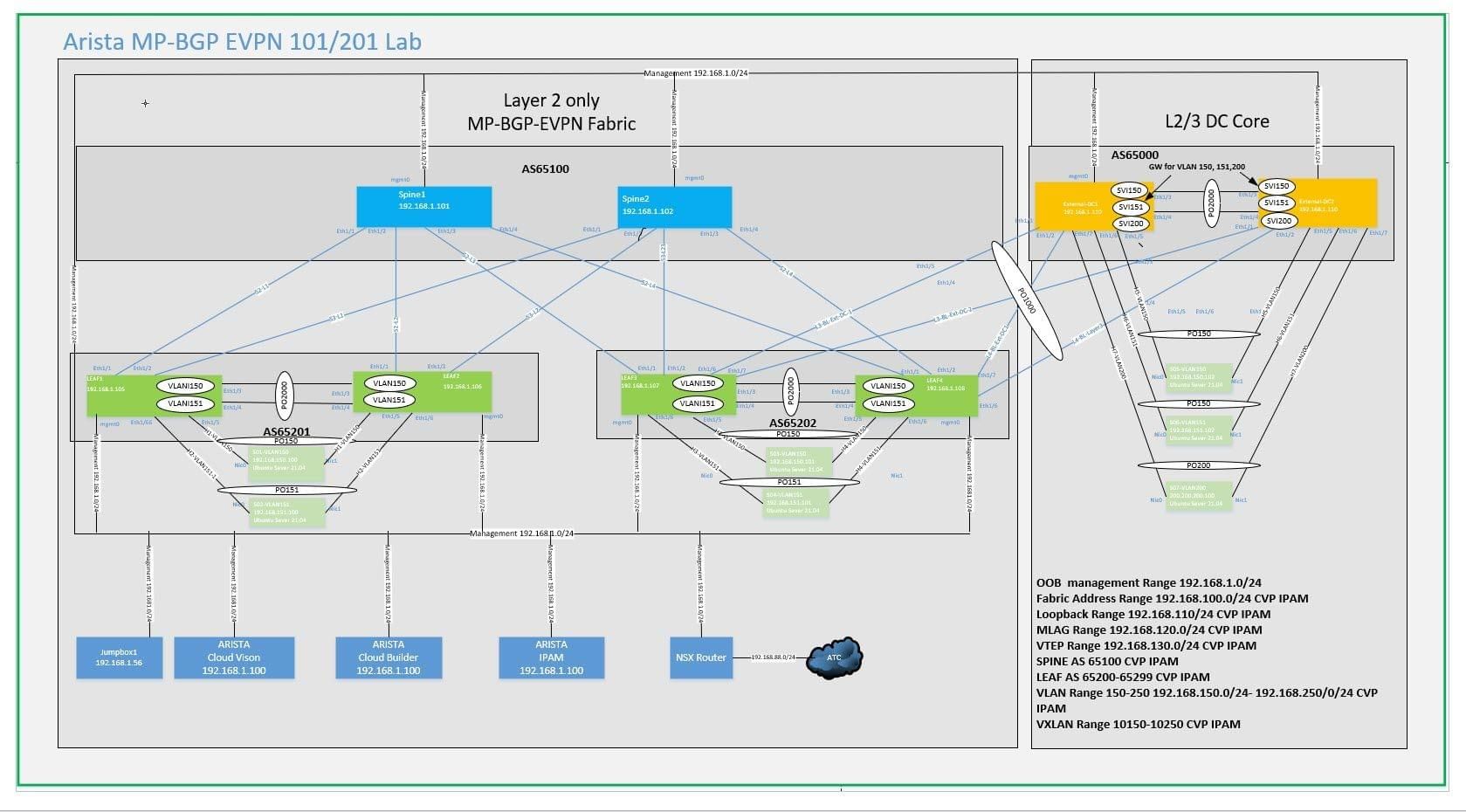 Goals & Objectives
VXLAN 101 Agenda
Cloud Vision Portal Overview(CVP)
Data Center Journey
Why Overlays?
VXLAN Introduction
VXLAN/EVPN – Standards-based Overlay with Control Plane
BGP Overview
Lab 1: Creating P-P interfaces, Loopbacks, and BGP underlay configuration and validation.
Multi-Chassis Link Aggregation(MLAG) Discussion
Lab 2 MLAG configuration and validation.
MP-BGP Discussion for overlay routing
Lab 3 MP-BGP
VXLAN VTEP, host learning, Route Targets(RT), and Route Descriptors(RD)
Lab 4 L2 VXLAN, RT, and RD within the fabric
External Connectivity using BGP
Lab 5 L3 external routing using external GW during migration
VXLAN routing (Asymmetrical and Symmetrical) and distributed gateways discussion
Lab 6 VXLAN Routing and Anycast Gateway and moving GW into the fabric using Aysmetrical routing
Lab 7 VXLAN Routing and Anycast Gateway and moving GW into the fabric using Symmetrical routing
Multi-Tenancy using VRFs
Lab 8 Multitenancy
Troubleshooting discussion
Lab 9 troubleshooting
CVP Deep Dive
Lab 10 Managing upgrades, backup exports maint groups, telemetry with CVP.
Hardware & Software
This document provides instructions for the ATC Arista MP-BGP VXLAN lab in the WWT Advanced Technology Center (ATC). This lab gives deployment engineers practice with configuration before deploying in the field. The lab is created by utilizing components in the Arista product portfolio. The components used include:
Arista CVP running latest 2.2.0 code
Arista Cloudbuilder v2.4.4
Arista IPAM v1.2.1
Arista vEOS switches running 4.26.2F
Ubuntu 21.04 server for LACP port-channel functional testing
Putty to connect to switches and CVP appliance
WinSCP to connect to switches to copy log files or code.