Arista With Cloud Vision Portal Sandbox Lab
Solution Overview
This lab provides exposure to the new technology and capabilities of the Arista products used. This lab introduces the Arista Cloud Vision Portal(CVP) and includes 3 VXLAN EVPN scenarios based on best practices from the Arista design guides, ACE3 course material and Arista TAC support the Arista EOS forum posts. There are many different ways to create an Arista-based VXLAN EVPN fabric; these 3 lab scenarios presents 1) a migration phase from a standard 3 tier VLAN and SVI-based network to a VXLAN fabric, 2) using Asymmetrical IRB and 3)Symmetrical IRB. BGP routing is the underlay, overlay and connectivity to the remote data center under migration. This sandbox and configs can be further used to explore other configurations and functionality of Arista CVP.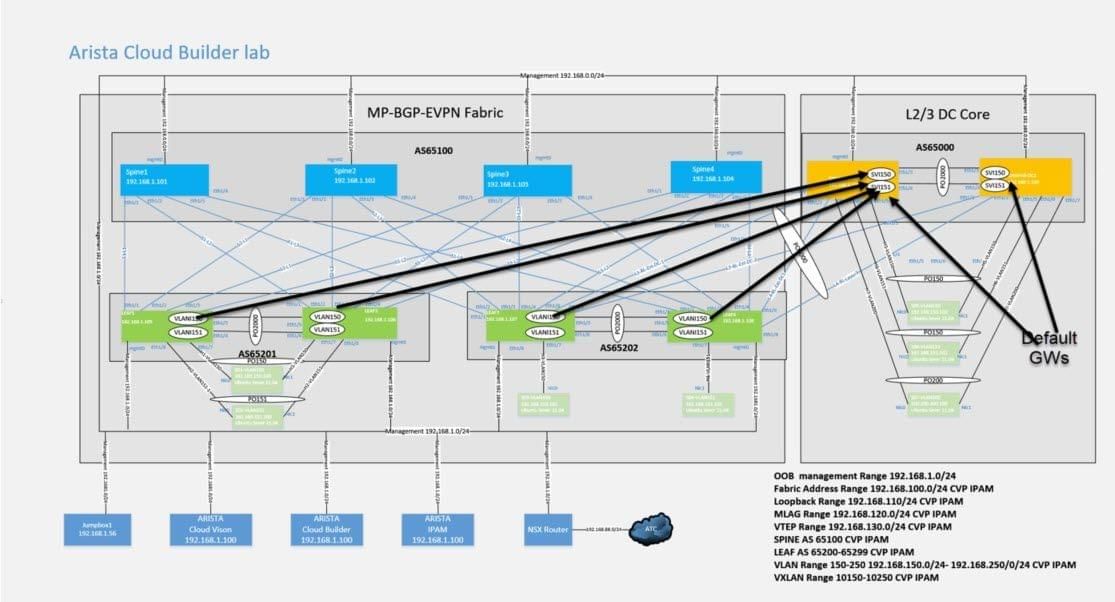 Goals & Objectives
This sandbox lab environment provides instructions for the Arista Sandbox with Cloud Vision lab in the WWT Advanced Technology Center (ATC). This lab gives deployment engineers practice with configuration before deploying in the field. The lab is created by utilizing components in the Arista product portfolio. As part of this lab students will learn:
Intro to Arista Cloud Vison
Cloud Vision Portal Walkthrough
MP-BGP EVPN VXLAN 101 Overview
BGP and MP-BGP EVPN overview
Arista L3LS BGP Best Practices
EVPN overview
Day 0 installation of Arista VXLAN L2 fabric using remote L3 in old DC-1 and DC-2
Arista VXLAN L3 fabric using Asymmetrical IRB
Arista VXLAN L3 fabric using Symmetrical IRB
BGP connectivity between EVPN BL and DC Core
Arista CVP tasks and change control overview
Using CVP to migrate L2 EVPN fabric to L3 Asymmetrical mode
Using CVP to migrate EVPN fabric to Symmetrical mode
Using WinSCP to gather files from devices
Hardware & Software
The components used include:
Arista CVP running latest 2.2.0 code
Arista Cloudbuilder v2.4.4
Arista IPAM v1.2.1
Arista vEOS switches running 4.26.2F
Ubuntu 21.04 server for LACP port-channel functional testing
Putty to connect to switches and CVP appliance
WinSCP to connect to switches to copy log files or code.