Cisco Metro Fabric with MPLS Segment Routing
Solution Overview
The Cisco Metro Fabric Design targets customers who need a lean, simple and scalable design that supports future growth, is 5G and IoT ready, employs SDN, and offers an industry leading/future proof architecture. The design also targets customers who have deployed Cisco's Unified MPLS design and are interested in eliminating some of the deployment and operational complexity of that design.

Segment Routing leverages source routing by providing a simple, stateless mechanism to program the path a packet takes through the network. It is extremely robust and delivers greater control and flexibility than ever before. This lab provides a hands-on environment that can be used to gain familiarity with the key concepts of a Metro Fabric Design.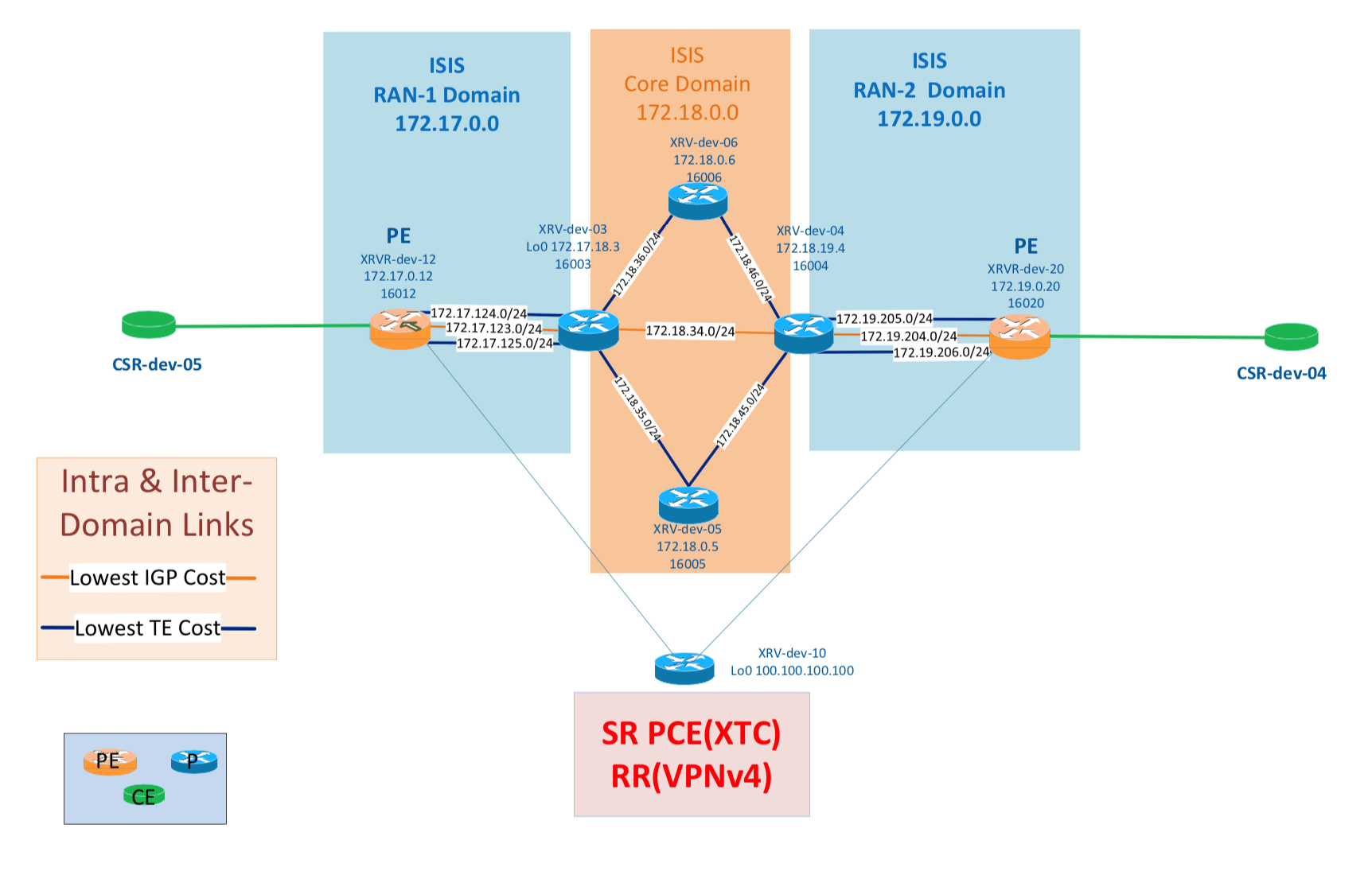 Goals & Objectives
The purpose of this lab is to provide a hands-on lab environment that can be used to gain familiarity with Segment Routing (SR) and to demonstrate the concepts. The lab scenarios are based on Cisco's Metro Fabric Architecture.

This architecture is designed for SP Metro Network (Access, Aggregation) and Mobile Backhauling and is built on top of the successful Cisco Evolved Programmable Network (EPN 5.0) architecture. The design is an evolution of the existing Unified MPLS Architecture and simplifies the transport by employing network programmability using Segment Routing and the SR-PCE or XTC. It simplifies service deployment with end-to-end automated service provisioning using NSO.

The configuration exercises include:
L3VPN configuration triggers with ODN SR policies
SR ODN policies using the SR-PCE controller
Implementing VRFs with Traffic Engineering using explicit paths with manually configured SIDs
Deploying the VRFs using an NSO L3VPN service policy

The lab is targeted at network engineers who have a novice to expert level of experience with IGP protocols, MPLS, Segment Routing (SR), BGP and the IOS-XR command line. The more experienced user will gain the most from the lab as it involves hands-on IOS-XR CLI access with the ability to execute additional show commands and make changes to the configuration.