Content Acceleration With SuperLumin and MobiledgeX
Solution Overview
The migration of mission-critical applications to the cloud has improved end user experience — smoother collaboration, automated backups and access to the latest updates on an ongoing basis. However, latency and network congestions often cause poor performance for cloud-based applications used by enterprises all around the world.
This lab details the use of SuperLumin Content Accelerator (SCA) to accelerate content delivery for Microsoft Office 365 cloud services. Office 365 has more than 400 hosts and domains that are used to provide the SaaS/cloud services for SharePoint, Word, Excel, Outlook, PowerPoint, OneNote, Streams and many more. All of the Office 365 hosts and domains are secure.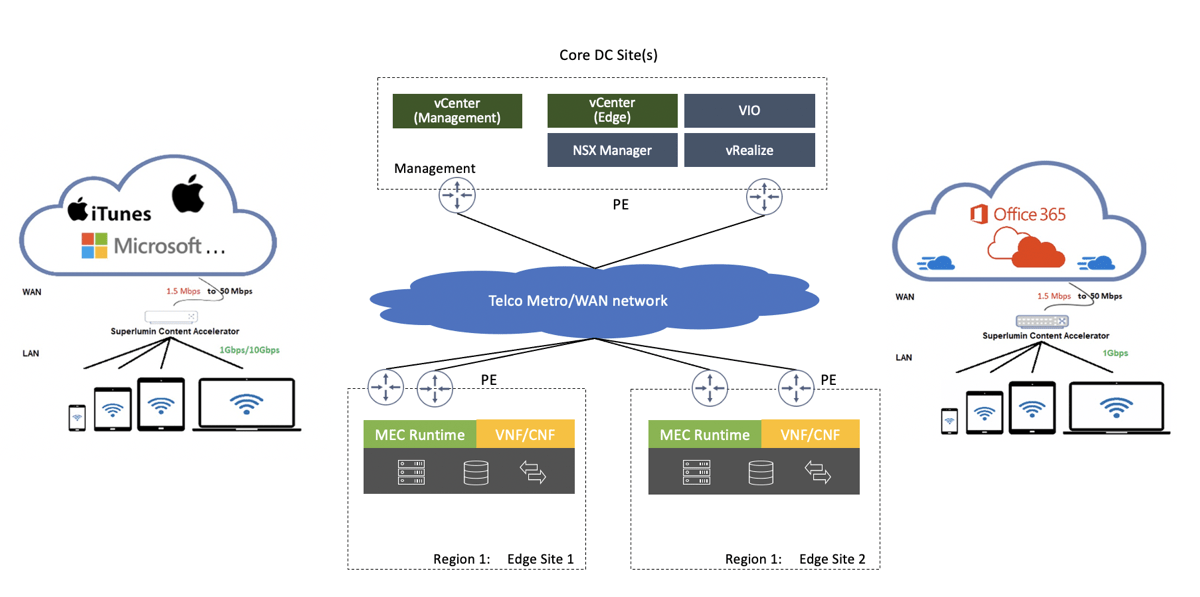 Goals & Objectives
The purpose of adding SuperLumin Content Accelerator (SCA) solutions is to improve the user experience. SuperLumin technology ensures access to content, delivering shorter load times and accelerated performance. With SCA in place, the volume of content moving over the provider network is decreased. SCA can run on VM stacks and micro-devices to carrier-grade hardware.
By utilizing SuperLumin's SCA, organization's can:
Cache content-of-interest on-premise within the LAN.
Leverage the extreme performance of SCA to allow a single device to service the data to all the clients without overloading the WAN.
Significantly improve performance by decreasing the overall volume of content moving over your network
Office 365 adds additional and unique strains on the network as more bandwidth is needed to handle the extra load put on the network by Office 365 applications like Stream, Outlook, Word, Excel, SharePoint, OneDrive, PowerPoint and others. With the majority of Office 365 traffic constantly having to leave the local network to gain access to content on the cloud, access to the Internet becomes a chokepoint and causes additional performance issues.
SuperLumin Content Accelerator (SCA) can be used to accelerate access to cloud-based services, such as those offered in the Office 365 product suite. SCA technologies can be deployed at the network edge and at the enterprise, meaning organizations can accelerate Office 365 services to suit their needs.
SuperLumin proprietary caching software can provide acceleration for small offices to full-scale core network traffic.
The application can run on top of WWT's Converged Edge Platform, customizable reference architecture with hardware and software optimizations pre-validated in our Advanced Technology Center (ATC) to create deployment specific builds.
Hardware & Software
WWT Converged Edge Platform Reference Architecture 1.5
Software
VMware Integrated OpenStack
VMware NSX-T Data Center
VMware vSphere
VMware vRealize Log Insight
VMware vRealize Network Insight
MobiledgeX Cloudlet (CRM)
MobiledgeX Edge-Cloud Controller (Public Cloud)
SuperLumin Content Accelerator Appliances
Hardware
Dell VxRail P570F Appliances
Dell VxRail V570F Appliances
Dell S5248-ON Switches
Dell Z9264 Spine Switches
Arista Converged Cloud Fabric (CCF)