Converged Edge Platform
Solution Overview
The converged edge will play a key role in a service provider's overall 5G strategy by delivering services and connectivity in support of specific industry verticals. Better yet, it's doing so with a common infrastructure that makes the management of the platform and the services delivered by it less complex.
WWT's CEP solution is a multi-purpose platform in a single box -- a containerized approach that offers a repeatable, scalable approach to 5G for enterprises to more quickly consume technologies and makes it simpler for operators to deploy:
A platform to deliver MEC applications for enterprise industry verticals.

Enterprise connectivity via Private LTE.

An NFVI platform to deliver virtualized services to the enterprise.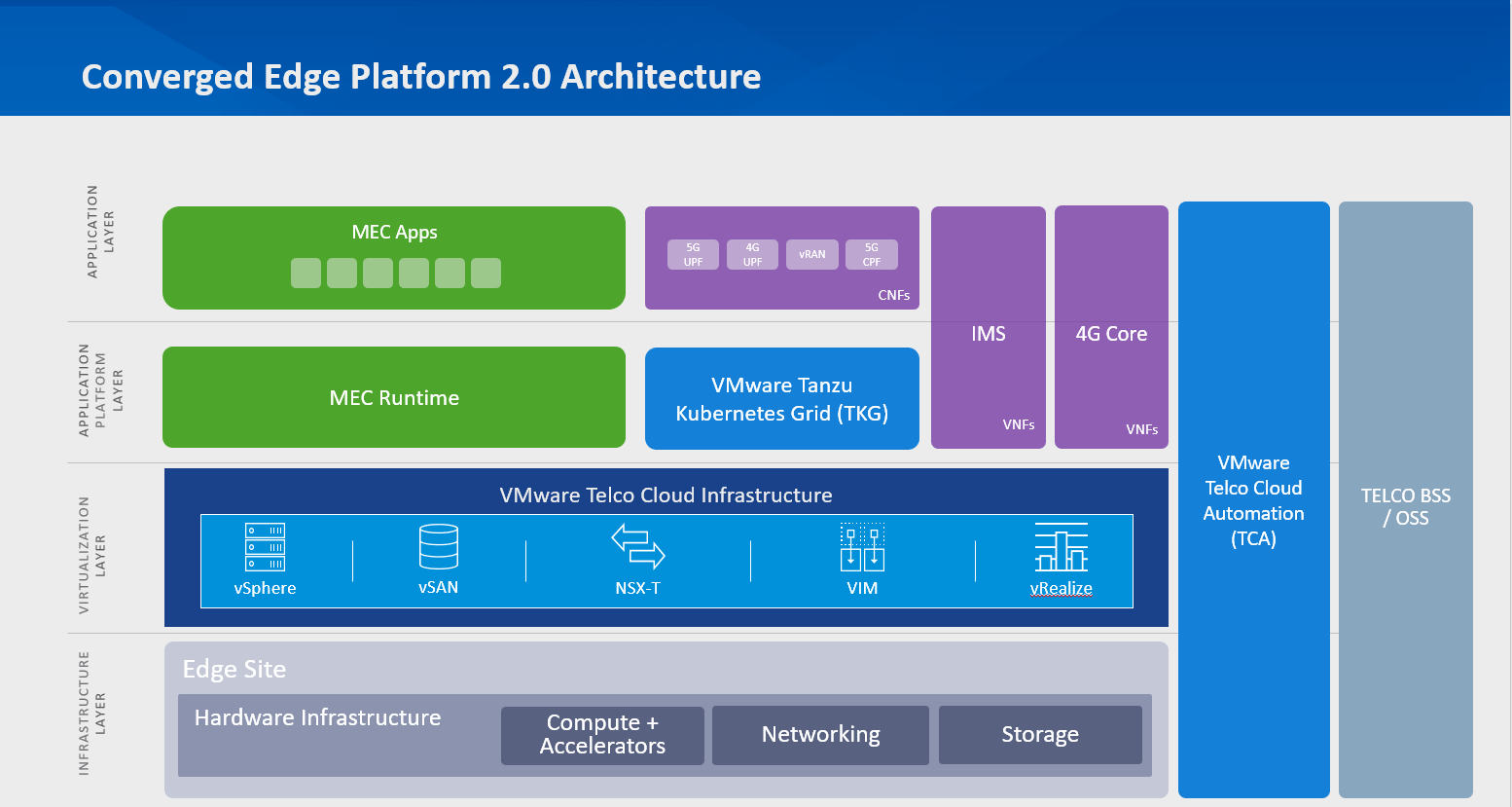 Before you get started
In a 5G sense, a converged edge solution can relieve carriers of the burden of being a software company by providing an integrated approach that makes 5G infrastructure easier to rollout and simpler to consume for enterprise customers.
Goals & Objectives
Gain hands-on experience with our Converged Edge Platform (CEP) environment to better understand use cases and vertical-specific requirements, and more quickly monetize 5G infrastructure investments moving forward.
This CEP blueprint provides a pre-validated reference architecture with hardware and software optimizations to create deployment-specific builds.
More on WWT's CEP
Designed from VMware's Telco Cloud Infrastructure (TCI) Reference Architecture and the VMware Telco Cloud Platform (TCP), WWT's CEP provides network/compute infrastructure solutions as close as possible to end-users in the mobile community and is capable of running native mobile applications needing low latency connectivity to the cloud, as well as delivering virtual network functions (VNF) and cloud-native functions (CNF).
The abstraction layers of the CEP solution include the infrastructure, virtualization, application platform and application layers.
At the infrastructure layer, VMware vSAN Ready Nodes provide the hardware solution for delivering compute and storage for edge nodes.
VMware's Telco Cloud Infrastructure makes up the virtualization layer, including VMware Integrated OpenStack (VIO) as the virtualized infrastructure manager (VIM), to allow legacy VNFs to be created and managed utilizing network optimization features such as DPDK, N-VDS Enhanced and SR-IOV.
The application platform layer is where the Mobile Edge Computing (MEC) runtime operates, as well as Tanzu Kubernetes Grid (TKG) for CNFs. The MEC Runtime delivers lifecycle management for low latency applications like augmented reality (AR), virtual reality (VR), Internet of Things (IoT), autonomous vehicles, robotics and any other software designed for mobile networks.
Because the Converged Edge Node will be deployed both in the enterprise and in the operator's network, WWT is creating two integration and deployment approaches.
The shared infrastructure option, which is more suitable the enterprise edge, runs all of the services on top of the same server in a smaller footprint.
The dedicated infrastructure option, which is more suitable for the telco edge, runs on the same architecture but splits out mobile edge computing into one pod and core mobility into another.
Hardware & Software
Hardware Included
Dell S5248F-ON Leaf Switches
Dell Z9264 Spine Switches
Dell N3024 OOB Switches
Dell Isilon F800 (for NFS backups)
Dell VxRail P570F
Dell VxRail V570F (Nvidia V100 GPUs)
Arista Converged Cloud Fabric Appliances

Software Included
VMware vSphere vCenter 7.0 U1a
VMware ESXi 7.0 U1
VMware NSX-T 3.1.0
VMware vRealize Network Insight 6.1 (vRNI)
VMware vRealize Log Insight 8.2 (vRLI)
VMware vRealize Operations 8.2 (vROps)
VMware Integrated OpenStack 7.0.1 (VIO)
VMware vSAN 7.0
Dell VxRail 7.0.132 Firmware