CyberArk Privileged Account Management Lab
Solution Overview
This lab is intended to show the basic features of the CyberArk Privileged Access Security solution (CyberArk PAS). CyberArk PAS is one of the leading solutions in the Privileged Account Management (PAM) space, which is what WWT considers one of the five pillars of Identity and Access Management.
The environment includes several Windows and Linux endpoints to demonstrate CyberArk's Privileged Session Manager functionality. This lab guide provides an overview of the CyberArk PAS solution and provides a brief walkthrough of some of the primary use cases within CyberArk PAS.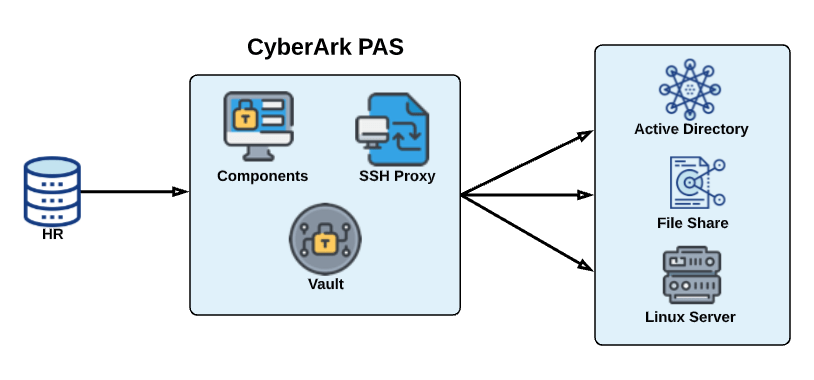 Goals & Objectives
After going through the lab guide, users of this lab should be familiar with the basic functions and features provided by the CyberArk PAS solution, including:
How CyberArk helps manage privileged account access.
How to access privileged credentials via CyberArk's web portal.
How to access privileged credentials stored in CyberArk's vault via native tools such as SSH and RDP.
How to audit privileged access sessions via CyberArk.
How CyberArk can help automatically manage privileged passwords.
Hardware & Software
The following servers are running in the demo environment:
CyberArk Components
Vault Server (Windows Server 2016)
Components Server (Windows Server 2016)

Privileged Session Manager
Password Vault Web Access
Central Policy Manager

Privileged Session Manager for SSH (CentOS)
Demo Components
Domain Controller (Windows Server 2016)
HR/File Server (Windows Server 2016)
Linux Server (CentOS)