NetApp ONTAP on Flash
Solution Overview
NetApp's Data ONTAP is built on over 25 years of intellectual property development. Over the years, NetApp developed ONTAP to be the most versatile and widely adopted storage operating system. Today, ONTAP can run on hybrid or all-flash appliances as well as in the cloud on both Azure and Amazon Web Services or even on 3rd party white box hardware in the form of a software defined storage deployment.

NetApp's Data ONTAP provides customers with the ability to serve data in a unified fashion by offering block and files protocols, data reduction technologies, tiering of inactive data out to a cloud/object storage provider, synchronous and asynchronous replication, live data movement, and a slew of other features that make Data ONTAP so popular.
Make the simple, fast move to NetApp ONTAP 9, the next generation of industry-leading data management software created to unify your storage infrastructure. ONTAP 9 bridges current enterprise workloads and new emerging applications. It builds the foundation for a Data Fabric, making it easy to move your data where it's needed across flash, disk and cloud resources.

Simplify deployment and data management:
Deploy new solutions in less than 10 minutes with fast app-centric provisioning templates.
Reduce storage footprint and costs with leading inline data reduction.
Easily and efficiently protect your at-rest data in any volume on any disk with built-in NetApp Volume Encryption.
Centrally manage from a single pane of glass.
Maximize data center agility:
Leverage the architecture of your choice: NetApp engineered systems, software-defined storage and the cloud.
Deploy both SAN and NAS workloads on a unified storage architecture.
Flexibly cluster flash and disk nodes to optimize performance and capacity--up to 172PB.
Provision storage in seconds with cloud automation and data center orchestration.
Power your enterprise applications:
Increase application performance with 20x faster response times.
Provide continuous availability to eliminate planned and unplanned downtime.
Support massive NAS containers with FlexGroup, scaling up to 20PB and 400 billion files, with high performance and resiliency.
Protect and rapidly restore data with integrated back-up and disaster recovery.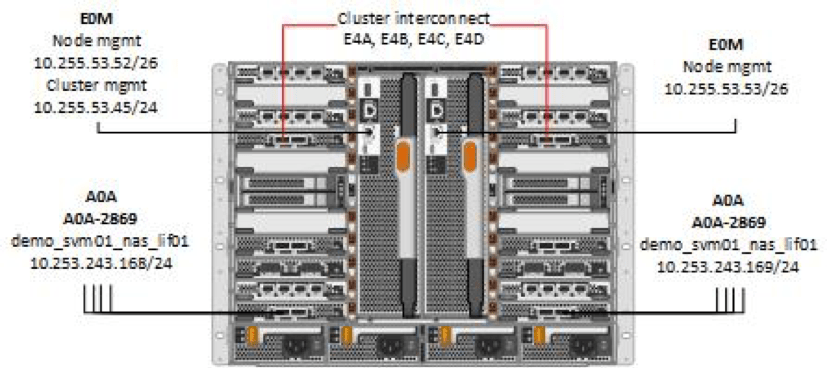 Goals & Objectives
In this lab environment, customers can log into the Data ONTAP system manager graphical user interface and explore the various tasks that can be performed in ONTAP on an all-flash appliance. Customers will be able to:
View cluster and node health and performance
Explore the multi-tenancy capabilities of ONTAP
Provision volumes, LUNs and aggregates
Assign storage quotas
Create and apply Quality Of Service policies to volumes
Configure network ports, logical interfaces, interface groups, link aggregation
Create protection policies and enable replication