Silver Peak SD-WAN Foundations Lab
Solution Overview
Silver Peak's solution helps customers build better WANs, dramatically lowering costs, boosting business performance and accelerating time to value. Silver Peak's architecture begins with a robust, secure SD-WAN foundation but doesn't stop there. Unique innovations provide added performance, visibility and control, security and extensibility allowing you to:
Achieve cost savings and realize greater business agility.
Confidently embrace the internet and accelerate cloud initiatives.
Proactively secure business operations.
Dramatically simplify IT Operations.
Increase business productivity and enhance end-user experience.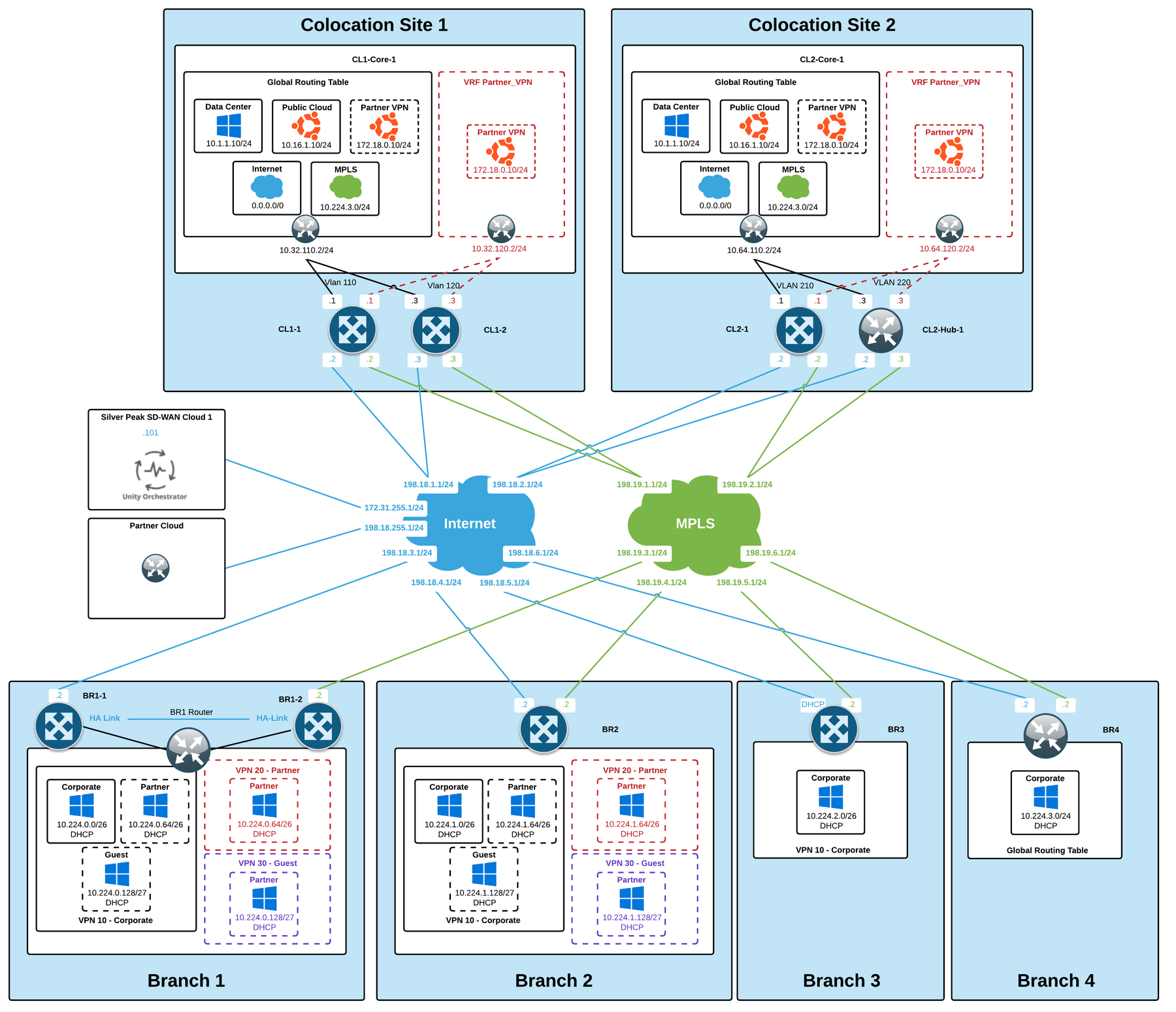 Goals & Objectives
The purpose of the foundations lab is to help you develop proficiency in deploying, managing and monitoring the Silver Peak SD-WAN solution. The lab guide is divided into standalone modules that can be completed independently providing for a flexible consumption by the user.
The modules included in this version are:
Create Deployment Profiles.
Upgrade Software.
Configure OSPF, BGP and general routing.
Configure High Availability for a site.
Configure Policies and Business Intent Overlays.
Demonstrate how Silver Peak handles impairment on circuits.
Demonstrate Silver Peak's Boost (WAN-OP).
Using the Included monitoring tools and use of Automation.
Hardware & Software
From a topology perspective, this environment consists of single data center and three branch sites using virtual Silver Peak Edge Connect devices, interconnected via simulated MPLS and internet clouds all of which are running virtually.

This lab uses:
Silver Peak Orchestrator version 9.0.5
Edge VXOA software version 8.3.0.3