Virtualizing any workload from anywhere
NVIDIA GPU Virtualization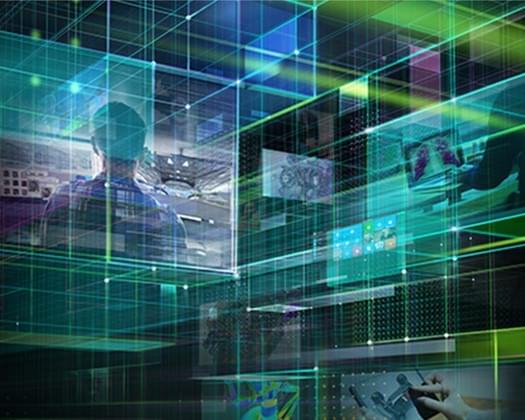 NVIDIA GPU virtualization enables your employees to access any workload from anywhere and work with increasingly complex models.
NVIDIA Solutions
Virtual Client Computing
NVIDIA GPU enables designers and engineers working with increasingly complex models to work more efficiently and collaborate across geographies. GPU virtualization also enables them to bring their creations to market more quickly with NVIDIA RTX Virtual Workstation (vWS).
Employees who use graphics-intensive applications and multi-task across dual monitors can leverage NVIDIA Virtual PC (vPC) to scale VDI deployments. This ensures more consistent and appealing user experiences.
Virtual Compute-Intensive Server Workloads
NVIDIA Virtual Compute Server (vCS) enables you to virtualize GPUs and accelerate compute-intensive server workloads, including AI, Deep Learning, and HPC. NVIDIA vCS provides researchers and scientists near bare metal performance in a virtualized environment for GPU-accelerated AI.
Flexible industry solutions
Organizations across all industries are realizing the power of GPU-accelerated virtual desktops and workstations. NVIDIA GPU virtualization drives increased productivity, manageability and security across key industries, including:
World Wide Technology: NVIDIA GPU partners
WWT works with key NVIDIA vGPU Partners, including Cisco, Dell and HPE, to accelerate customers' virtualization journeys.
Cisco and NVIDIA GPU Accelerated VDI
Cisco Unified Computing System (UCS), NVIDIA GPUs and virtual GPU software enable your employees to work more efficiently, collaborate across geographies and bring creations to market more quickly. This is ideal for designers and engineers working with increasingly complex models and employees who use graphics-intensive applications.
Dell and NVIDIA Empower the Remote Workforce
Dell and NVIDIA VDI solutions empower remote workers by enabling them to access the applications they need to be productive. It does this without compromising security or the high-quality experiences that users demand, while streamlining IT resources and management.
HPE and NVIDIA VDI Solutions
HPE servers and NVIDIA vGPU accelerated VDI solutions provide users with consistent and high-quality experiences. This enables them to be more productive while increasing IT operational efficiency and data security.