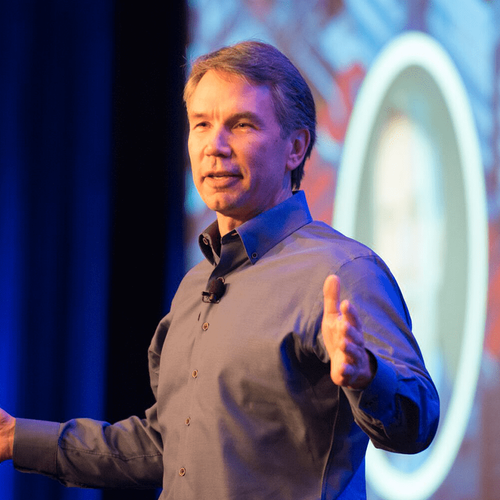 Jim Kavanaugh
World Wide Technology
Co-Founder and Chief Executive Officer
About Jim
A visionary and inspiring leader, Jim Kavanaugh co-founded World Wide Technology in 1990 and serves as CEO — steering the company from its roots as a small startup into a global technology solution provider that helps organizations conquer the speed and complexity of technology, harness the power of digital transformation and make a new world happen.
Jim is globally recognized as an innovative business executive and is renowned for his inclusive, people-first leadership style. His emphasis on promoting a healthy, vibrant workplace has anchored WWT's award-winning culture, while his savvy business acumen has propelled the company's substantial growth.
Jim leads WWT's 18-person executive team and focuses his time on technology innovation — for both WWT and its customers and partners — long-term planning, strategic acquisitions, financial performance, employee development and workplace culture. Under his leadership, WWT has grown into a $17 billion company with approximately 9,000 employees globally that is a great place to work for all and is a key business enabler to 80 of the Fortune 100 companies.
His values-driven approach and emphasis on the health and well-being of WWT's employees earned him a place on Glassdoor's most highly rated CEOs during the COVID-19 pandemic. Glassdoor also named Jim as one of the 25 best CEOs in America in 2021.
Deeply committed to giving back to the community, Jim's charitable work has also been heralded. He serves as a member of the American Cancer Society's CEOs Against Cancer of Missouri - St. Louis Chapter and led a $9.1 million capital campaign, enabling the organization to renovate and remodel Hope Lodge St. Louis, a free home away from home for patients and their caregivers, which was renamed the World Wide Technology Hope Lodge in 2020. Additionally, Jim supports many local and national charitable organizations such as ALS Association, St. Baldrick's Foundation, Toys for Tots, Cardinal Glennon, Junior Achievement and United Way.
Jim is an investor and board member of cybersecurity firm Privoro, a board member of Stifel Financial Corporation, and a member of Business Roundtable.
Jim earned a Bachelor of Science degree in business administration from Saint Louis University and is a member of the university's Smurfit-Stone Entrepreneurial Alumni Hall of Fame. He has also been a trustee of the board for his alma mater, St. Louis University, since 2010.
Prior to co-founding WWT, Jim played professional soccer — he represented the United States on the men's national team in the 1984 Summer Olympics in Los Angeles — and credits his experience with sports for instilling in him several principles that serve as core values for WWT today, such as trust, passion and being a team player. Jim is an investor/owner of Major League Soccer franchise St. Louis City SC, and National Hockey League team St. Louis Blues.