Manufacturing Digital Transformation Workshop
One of the biggest challenges our customers face is stakeholder alignment: IT often doesn't "speak" manufacturing, and manufacturing often doesn't "speak" data science, IT or security. WWT's Manufacturing Practice is multilingual: we speak business, technology, OT and manufacturing. This allows us to bring relevant stakeholders together and gain alignment on common goals like worker safety, reduced downtime and quality assurance.
We utilize various ideation methodologies to provide an equal voice to disparate stakeholders, in their native language, from executives to IT to manufacturing and distribution. This enables each to surface their priorities, ideas about the future and current-state challenges in their own way. Our teams then assimilate this into a common framework leveraged to gain common alignment on critical objectives.
Digital transformation is a process, and this is the first step in a series of discussions that will ultimately yield the right strategy, solutions and architecture that will drive significant business outcomes — present and future.
And then what? The best plans don't mean much if they aren't implemented in a timely manner. We have the depth, breadth and global scale to execute the plan we helped to create.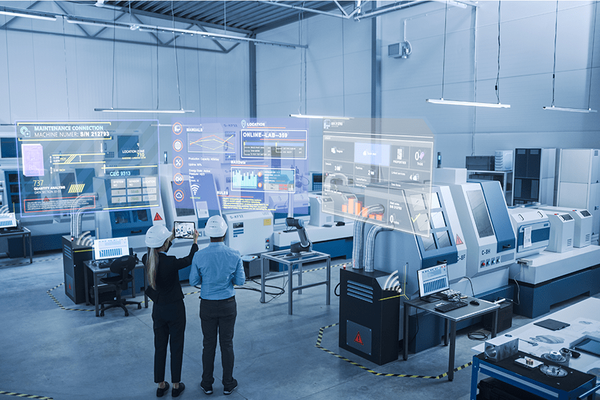 What to Expect
The agenda for this workshop will be tailored to address your organization's business and Industry 4.0 objectives, critical processes and systems, key performance metrics, dependencies and challenges. Topics may include:
Examining your top manufacturing and operational challenges, such as unplanned mechanical downtime, maintenance programs, quality control, production efficiency and yield, etc.

A physical tour of production facilities to get "eyes on" context of manufacturing operations and the challenges identified.

How to acquire, analyze, visualize and utilize the massive amounts of data your organization is already producing to increase production efficiency and quality.

Using data analytics to gain predictive insights that enable pro-active, data-driven decision making in operations, supply chain and logistics. Examples include predictive process/machine failure and risks related to supply chain and logistics.

Aligning operational objectives with organizational security requirements to protect against breaches, ensure worker safety, and prevent production tampering and disruption.

Transforming customer and workforce experience.
Goals & Objectives
WWT industry and technology experts will lead your stakeholders through a business- and outcomes-driven conversation. We know what it takes to run a manufacturing operation, and we know the risks and threats you face every day. With our combined industry and technical experience and expertise, we can bring your business and IT groups together to build, implement and operate solutions that digitally transform your operations. We will help you:
Increase business confidence in IT.
Develop or refine your Industry 4.0/digital transformation strategy.
Build an actionable plan to execute the strategy.
Execute the plan and implement solutions with speed and scale.
Establish a system for outcome validation and success measurement.
What is a workshop?
Workshops lead to the creation of strategic program deliverables, including: prioritized business and operational challenges, strategic framework to align science and technology to business priorities, high-level business impact, roadmaps, and a proposal for services to further develop a formal digital transformation strategy, associated technology architecture and the practical plans to implement.
Who should attend?
Production and operational stakeholders
Manufacturing IT
Enterprise and corporate IT
Benefits
With the ability to deliver world-class strategy and execution, WWT supports organizations from idea to outcome. Aligning people, processes and technology, our manufacturing solutions are designed to address each organization's unique needs. Prior to deployment, we use our Advanced Technology Center to test and validate solutions via proofs of concept and pilot programs. Then we leverage our global integration and supply chain capabilities to deploy solutions at scale.
Across multiple disciplines, we work with your organization's key stakeholders to develop, test, deploy and implement solutions that increase profitability while reducing risk. You'll get:
A prioritized roadmap of solutions that details the associated people, processes and technology necessary to support next steps.
As needed, recommendations for future working sessions to further explore these solutions.
A cost/complexity analysis for each solution, which includes projected return on investment.
What's next?
Learn more about Data Strategy and Architecture, stay up-to-date with the industry and the new technology we have at WWT.