From the Front Lines to the Bottom Line: Are We Getting AI Right?
Artificial intelligence has become engrained in everything we do—but whether we are truly using it effectively remains to be seen.
May 28, 2020
•
5 minute read
These days it seems as though everything is connected by and to AI. Even the term itself—artificial intelligence—is quite the hot and trendy topic, likely headlining the majority of industry newsletters currently in your inbox. And for good reason—data analytics and AI have become the powering force behind today's new age of digital transformation, with seemingly limitless potential for further innovation.
That said—unless Jurassic Park taught us nothing—just because we can, doesn't mean we should.
We presently have the opportunity to integrate AI into everything we do, but the question remains: are we getting it right to prepare us for the most important challenges in our future, or are we hastily trying to apply AI everywhere we can?
AI panel
This preparedness question is one I have touched on before, with regard to whether an agency's cybersecurity infrastructure was ready for the threats of today and tomorrow. On May 6, I joined C4ISRNET's 19th Annual Conference—a completely online experience for the first time in 2020—to discuss this very topic during a panel on "Getting AI Right" hosted and moderated by C4ISRNET Editor Mike Gruss.
I was joined by Lieutenant General Robert D. McMurry, Jr., Commander, Air Force Life Cycle Management Center and Program Executive Officer, Rapid Sustainment Office, U.S. Air Force; and Brigadier General Matthew Easley, Director, Army Futures Command and AI Task Force, U.S. Army; to discuss where the Department of Defense could use the most help with AI.

In analyzing the DoD's ability to effectively harness the power of AI there are two main areas that stick out, both connecting back to ensuring proper due diligence.
The first involves a critical focus on preparing and implementing a sound data strategy. This is the necessary precursor to simply overhauling a defense agency's digital infrastructure. As Lieutenant General McMurry posited, the influence of AI across all industries is currently in an exploratory mode, and the DoD is no different.
A data strategy approach
The DoD has copious amounts of data across numerous locations in varying forms; it can be quite difficult to bring that data together to create and deploy models. By first investing in efforts to improve its overall data maturity, the DoD will be much more prepared to efficiently analyze it and leverage it for mission advantage. The following Data Maturity Curve model provides a helpful representation of the diligent steps involved in that process.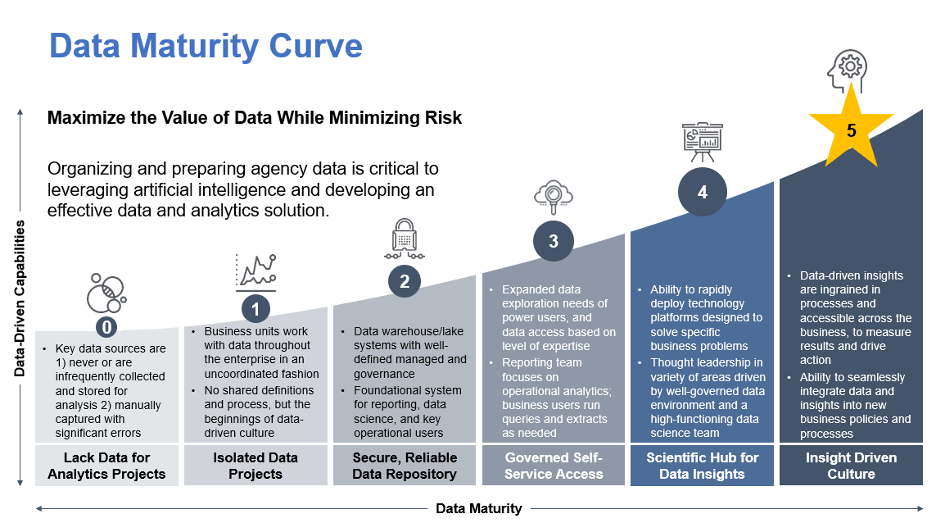 The second area involves how the DoD builds their AI workforce and establishes talent within the department to really extract the best use cases for implementing AI. The talent is certainly out there yet demand remains strong across both the public and private sectors. While the DoD continues to grow a cadre of experts that understand this emerging technology it must ensure there is an accessible, integrated environment for these experts to interact collaboratively and play to each other's strengths to foster innovation while developing a trusted peer network.
Battlefield AI vs. Enterprise AI
Looking ahead at how AI could be applied to the military community over the course of the next 5-10 years, it could serve the DoD well to look to how private industry has leveraged Enterprise AI and how that might improve service effectiveness.
Enterprise AI is being used to develop creative business automation processes leading to organizational efficiencies. While Battlefield AI may have inherently higher stakes and will typically generate more permanent risks, applying the efficiency of Enterprise AI can lead to game-changing military advantages on the battlefield, an area that must be a critical focus.
Our adversaries are constantly advancing their warfighting capabilities to gain tactical advantages on the battlefield and are without a doubt investing heavily in AI. This is a space where the United States cannot lag or afford distraction lest we risk falling behind. We can differentiate ourselves through focused research and investment in AI so that DoD will ensure that nation-state advantage that has long been our strength.
This will not be accomplished overnight. DoD's Joint Artificial Intelligence Center (JAIC) has worked diligently with private sector to leverage emerging technologies in support of the development of AI-enabled capabilities meant to provide advantages on the battlefield; however, we must maintain momentum and not get distracted with easier use cases that might not provide as high of an impact. Developing and implementing an effective Battlefield AI strategy takes time, and DoD must approach this task with that long game in mind.
Of course, the potential advantages of AI in the DoD extend beyond the battlefield alone. AI could be of great assistance as federal and defense agencies continue to adapt to remote working environments in this continued time of uncertainty. As my colleague Rick Piña recently stated, as federal agencies look to industry for answers as well as solutions in response to our "new normal," the common denominator of innovation is in the power of AI and how it can best be leveraged.
Particularly in terms of automation, AI implementation can lead to the elimination of lower value work allowing for a greater focus on higher mission-critical outcomes. Recalling the previously mentioned key focus on AI talent, DoD could very well benefit from this this growth in telework opportunities. Brigadier General Easley noted that his command is entrenched in more work now while remote than even before the stay-at-home order began.
Moving forward
While a great deal of uncertainty remains ahead, what is known is that AI technology is here now, and private industry continues to prove its significant impact. The more DoD continues to leverage AI capabilities in the enterprise and on the battlefield, the closer we will be to getting it right.
Stream our virtual panel and the complete conference in-full.
Stay tuned for more information from WWT regarding updating digital events and features.