Article
•
•
3 minute read
Palo Alto Networks New Innovations Extends SD-Branch Capabilities
Palo Alto Network Prisma SD-WAN innovates to help customers simplify their branch offices.
Written by Shankar Ramachandran, Director, Product Management,SASE at Palo Alto Networks
Digital transformation is relevant now more than ever with businesses opening and employees increasingly coming back to branch offices. To stay competitive and improve business agility, businesses must simplify operations regardless of their global presence. They are faced with both an opportunity and a challenge: How do we transform to meet the increased expectations of employees, customers and business partners without adding operational complexity or costs?
However, organizations with highly distributed branches often struggle with configuring and managing a massive amount of network appliances at branch offices. In addition, they also experience significant operational complexity when managing multiple devices to get both WAN and LAN connectivity. As a result, they seek an integrated appliance with Layer 2 and 3 capabilities that allows them to reliably connect to the WAN and power endpoints within LAN to streamline management.
Consolidate edges to simplify branch
Organizations are increasingly moving away from traditional network architecture to a software-defined wide area network (SD-WAN) to leverage multiple WAN networks that improve bandwidth availability and redundancy while enabling direct access to SaaS and cloud-based applications. The desire to extend the management simplicity, improved visibility and consolidation to the local area network (LAN) drives the need for consolidation of appliances within the branch.
Palo Alto Networks Prisma SD-WAN is the industry's first next-generation SD-WAN that delivers an exceptional user experience with simplified operations and improved security outcomes. Recognized for its continued innovation and leadership position by industry analysts like Frost & Sullivan and Gartner, Prisma SD-WAN recently announced new capabilities to simplify operations both at the WAN and LAN at SASE Converge.
Powering today's branches with integrated edge appliances
Palo Alto Networks Prisma SD-WAN is introducing new hardware appliances as part of its Instant-on-network (ION) portfolio. The ION 1200-S and ION 3200 help organizations modernize their small to midsize branches. Organizations can now leverage these appliances to transform their branches with many benefits including:
Connect and power endpoints like IP phones, cameras, wireless access points and printers with a fully integrated switch and power over ethernet (POE) ports within the local area network.
Flexibly connect WAN or LAN to fiber to ensure long-range and high-speed connections.
Enable better WAN availability with the ION 1200-S integrated 5G or LTE WAN that can be leveraged in an active-active manner.
Provide power redundancy with a dual power supply option that ensures network uptime and consistent connectivity.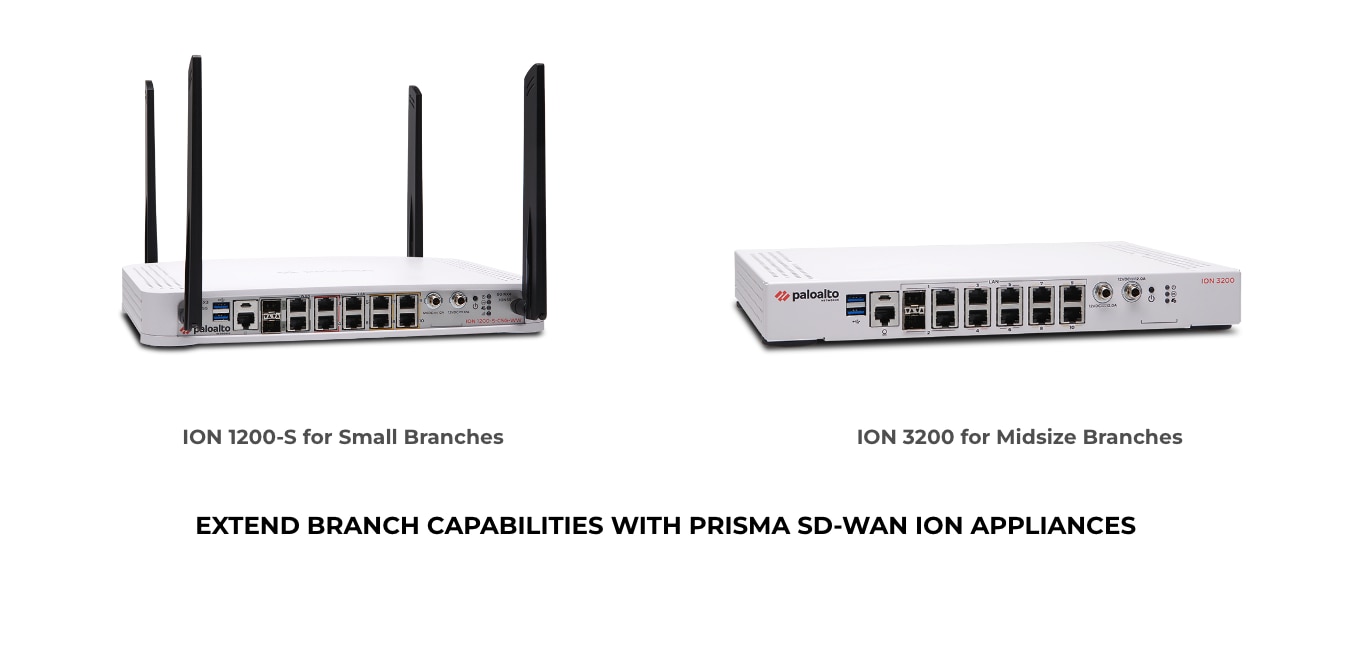 Additionally, to help businesses reduce operational overhead, Prisma SD-WAN enhances its integration with collaboration applications such as Slack to deliver on-demand access to network information. NOC admins can now use natural language to understand the health of their Prisma SD-WAN network, sites, and applications, and get notified of network events as they occur. This enables effective trouble ticket triaging, decreased time to resolution, maintaining SLAs, and improving the end-user experience.
At Palo Alto Networks, we continue to build on our leadership position by innovating and providing a competitive advantage for our customers with our best-of-breed SD-WAN solution and superior security capabilities.