Global technologies, local knowledge
Since expanding our global footprint into the Asia Pacific market in 2009, WWT has quickly established itself as a go-to technology integrator for large institutions in the region. Our dedicated team in Asia Pacific comprised of talented individuals with expertise across a broad range of disciplines, both technology and business, and include industry-experienced engineers, solution architects/consultants, application developers, program managers and a strong client support.
Overall, we attribute our success in the market to two key focus areas: our 24/7, on-demand, virtually accessible Advanced Technology Center (ATC), and our Asia Integration Centers in Singapore and India. These centers help our customers deliver results in a fraction of the time it would take for a customer to implement new technology.
APAC statistics
We scale globally
WWT understands the importance of supporting our clients on a global basis, mirroring the way in which their businesses operate. As a result, WWT has invested heavily in developing a unique business model that helps enable large global enterprises to be serviced with a consistent, highly accessible and diverse support structure. Today, WWT's footprint spans the globe to help meet your needs.
Australia
China
Guam
Hong Kong
India
Japan
Malaysia
New Zealand
Philippines
Singapore
South Korea
Taiwan
Thailand
Vietnam
Asia Integration Centers (AIC)
We leverage 300+ OEM partners, including
Case Study focus: Fortune 50 Bank efficiency and pricing gains through the ATC
Utilising WWT's Advanced Technology Centre as a pre-certification environment, a Fortune 50 Bank tested potential solutions against their stringent security standards, completing bake-off for competing technology vendors to verify and select the best options that meet their requirements.
During this exercise, over 34 vendors and their corresponding products were evaluated across a variety of technology domains.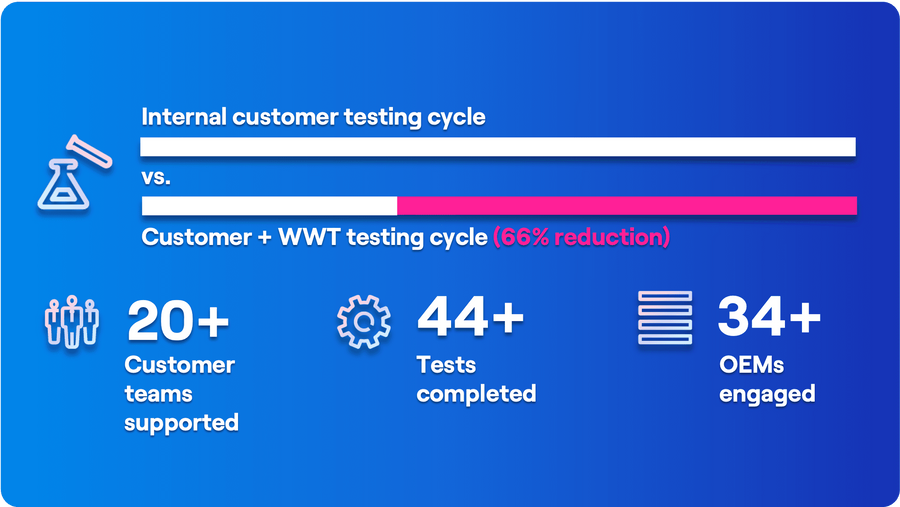 Results
The bank achieved a two-thirds reduction in testing cycle times and the ability to complete a higher volume of POCs when compared to using traditional non-ATC methods. In addition to the efficiency gains, WWT provided a matrix overview of common features available across the competing OEMs that allowed the client to negotiate better pricing.
Where top tech meets top talent
Are you located in the APAC region and looking to work at a top technology company with a focus on culture, diversity and inclusion, and innovation?