Intel Platinum 8260 Power Testing
Explore the ATC Insight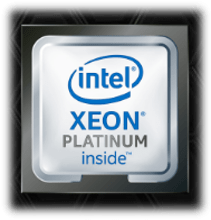 If you read my previous ATC Insight around some power testing we did in the Advanced Technology Center (or ATC) in January of 2020, you will be glad to know that these efforts and lab activities NEVER stop in the ATC. The train just keeps moving down the track!
I am back to share an ATC Insight around some power testing we did recently (February 2020) in the the ATC around the Intel Platinum 8260 CPU. In this testing run, we used an HPE ProLiant DL360 Gen10 server.
From a tooling perspective, we used SPECpower, which is an industry-standard benchmark that evaluates the power and performance characteristics of volume server class computers, and a Yokogawa power meter to specifically record the power demands of the Intel Platinum 8260 CPU.
We were interested in determining the power demands in this specific setup, and these tests showed one of our customers the compute capacity and power demands in a standard way. Our customer likes this type of testing because it can be used to compare different server/processor configurations. These power numbers can also help define the max number of servers that can be placed in a rack due to data center power limitations.
If you would like to find out what we learned please click on the ATC Insight and read further!