Planet
WWT is committed to sustainability initiatives that address the daily impact our operations have on the environment. With a focus on climate, energy and waste reduction, water conservation and end-of-life product planning, we work to protect our planet while providing business value for our customers.
We are committed to investing in resources that promote the reduction of any negative impacts our industry has on the environment, including pollution prevention and the continual improvement of our overall environmental performance.
Environmental Impact Assessment
We continually work to assess our operations to identify ways we can make a positive impact on the environment. Today, we are focused on:

Reducing greenhouse gas emissions, waste to landfill

Improving water conservation to mitigate any negative impact our global operations might have on the environment and local communities.
Plastic Fishing in Amsterdam
Teams joined forces to help make Amsterdam plastic-free with the first plastic fishing company in the world called Plastic Whale! WWT employees jumped onboard 3 Plastic Boats (each made from 3000 recycled plastic bottles) and went through the beautiful canals of Amsterdam fishing for plastic and other garbage.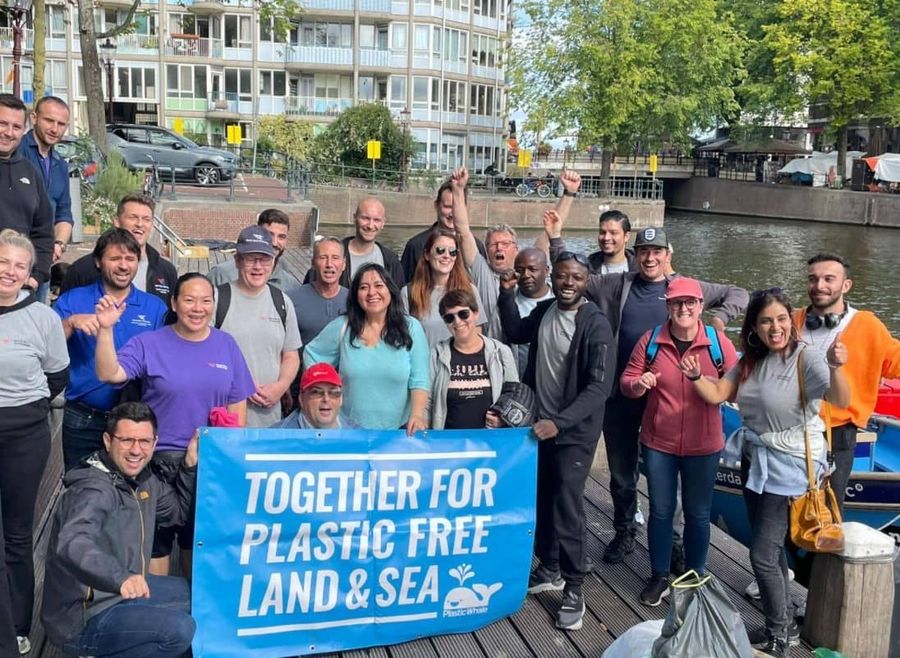 Additional Performance Improvement Programs
WWT supports and participates in the following sustainability programs:
Carbon Disclosure Project (CDP)
CDP is a not-for-profit charity running the global disclosure system for investors, companies, cities, states and regions to manage their environmental impacts.
Global Reporting Initiative (GRI)
GRI is an international independent standards organization that helps businesses, governments and other organizations understand and communicate their impacts on issues such as climate change, human rights and corruption.
Science-based targets
Science-based targets provide companies with a clearly defined path to reduce emissions in line with the Paris Agreement goals.
Task Force on Climate-Related Financial Disclosures (TCFD)
The Task Force on Climate-Related Financial Disclosures (TCFD) was created in 2015 by the Financial Stability Board (FSB) to develop consistent climate related financial risk disclosures for use by companies, banks and investors in providing information to stakeholders.
SASB
SASB Standards guide the disclosure of financially material sustainability information by companies to their investors. Available for 77 industries, the Standards identify the subset of environmental, social and governance (ESG) issues most relevant to financial performance in each industry.
EcoVadis
EcoVadis provides a holistic sustainability ratings service of companies. It covers a broad range of non-financial management systems, including environmental, labor and human rights, ethics and sustainable procurement impacts.
Sustainable Development Goals
The Sustainable Development Goals are a universal call to action to end poverty, protect the planet and improve the lives and prospects of everyone, everywhere. The 17 Goals were adopted by all UN Member States in 2015, as part of the 2030 Agenda for Sustainable Development which set out a 15-year plan to achieve the Goal.
EPA SmartWay
EPA's SmartWay program helps companies advance supply chain sustainability by measuring, benchmarking and improving freight transportation efficiency.
Ameren Missouri Demand Response
The program helps Ameren Missouri maintain reliable and efficient power availability during periods of high demand, and compensates customers based on the amount of capacity they are able to remove from the grid when needed.