TEC37 Security Series E09: Security Priorities for 2022
Event Overview
Join host Robb Boyd as he speaks with WWT's Matt Shivers and Vin Sundaram, as they dig into the key industry forecasts. Our panel of cross-sectional experts recommend areas that security leaders should focus on in 2022 to position their organizations for success.
Featured Speakers
Vin Sundaram
World Wide Technology
Principal Consultant, Cybersecurity & Technology
Vin has over 30 years of experience in the technology sphere. His broad experience in technical and business leadership positions allows him to effectively communicate with people from the Board Level, C-Suite, and technical groups. At WWT, Vin is a strategic cybersecurity advisory consultant helping customers solve business problems by reducing their business risk and improving their cybersecurity posture. His work covers many industries.
Matt led the turn around of an unprofitable business unit inside a Fortune 50 company, making it into a global leader with up to $1.3 Billion in annual revenues. His ongoing success in building industry-leading service organizations has enabled him to earn connections with leadership teams at over 30% of the Fortune 300. He is a transformational business leader who drives companies to the top of their market, and grows revenues through world-class customer engagement and service delivery.
Goals and Objectives
The purpose of this episode is to share insights WWT experts have on the industry landscape and provide you with a strategic plan for building your security architecture in 2022.
Who should attend?
Security Leaders: CISOs, CSOs, CIOs, Executive Directors, Managing Directors and Information Security personnel.
Presenters
World Wide Technology
Director Global Cybersecurity
World Wide Technology
Cyber Security and Technology Consultant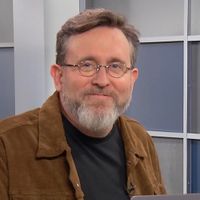 Robb Boyd
Explainerds.net
Chief Nerd
Invite people to join this event