Executive insight for securing your future
Meet the Chief is a series of virtual webinars designed to provide viewers with visibility into emerging cyber trends and how they can help secure the world's largest and most complex organizations. Register for these executive-led events and you'll also hear about:
What's shaping today's complex threat landscape and how to combat it head on.
Areas security executives should be prioritizing today to win in the future.
Creating a cohesive security strategy that breaks down fragmented and siloed team.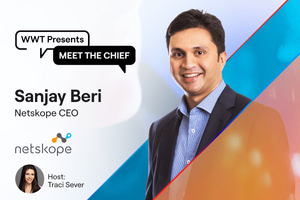 Security Strategy
Protecting Data in the Age of AI with Netskope's Sanjay Beri
A hybrid workforce, the push for data and AI transformation and continued drive toward cloud has changed the game for security leaders. Secure access service edge (SASE) and security service edge (SSE) — once little known terms — are now mainstream, with migration to SSE a defacto vision for most business leaders. Join WWT's Head of Global Security Strategy Traci Sever and Netskope CEO Sanjay Beri, a pioneer in the SSE space, as he talks about how cloud, mobile and remote work is driving security leaders to change the way they're doing business. Sanjay also talks about the implications AI is having on security teams, and how to defend against AI when used as a threat, and how culture plays a key role in building a high-performance, growth organization that has security at its heart.
Traci Sever
World Wide Technology
Head of Global Security Strategy and GTM
As the Head of Global Security Sales Strategy and go to market, Traci leads the efforts to define, build and activate the security go to market strategy across WWT's $17 billion business, interweaving security into every outcome. In order to provide the best experience for clients, Traci productizes and simplifies WWT's capabilities to enable both innovation and successful adoption of security solutions.
More cyber events available on demand