Partner Spotlight
NVIDIA & WWT

Providing leading artificial intelligence solutions for customers around the world
WWT is an award-winning, authorized Elite Partner collaborating with NVIDIA® on artificial intelligence & machine learning (AIML), VDI, Visualization, and networking solutions for organizations around the world.
We've achieved some of NVIDIA's highest-level competencies, including Compute DGX-Elite, Compute-Elite and Virtualization-Elite status.
NVIDIA DGX Systems: Purpose-Built
for the AI Enterprise
NVIDIA DGX™ Systems are purpose-built to meet the demands of enterprise AI and data science, delivering the fastest start in AI development, effortless productivity and revolutionary performance — for insights in hours instead of months.
NVIDIA Data Center
GPUs for Servers
Accelerate your most demanding HPC and hyperscale data center workloads with NVIDIA Data Center GPUs. You can now parse petabytes of data orders of magnitude faster, in applications ranging from energy exploration to deep learning.
GPU Virtualization
for Every Workload from VDI to AI
NVIDIA virtual GPU (vGPU) solutions bring the power of NVIDIA GPUs to virtual desktops, apps and workstations, accelerating graphics and compute to make virtualized workspaces accessible to creative and technical professionals working from home offices or anywhere.
NVIDIA RTX Server
for Design and Visualization
Achieve RTX-accelerated performance on any device, anywhere, with NVIDIA RTX™ Server, a highly flexible reference design that combines high-end NVIDIA Quadro RTX 6000 and 8000 GPUs with NVIDIA vGPU software to deliver exceptional compute power.
Remote Work with NVIDIA
Provide your employees a safe, productive user experience, regardless of your industry. NVIDIA virtual GPU software solutions make it possible to run high-compute workloads from anywhere.
AI for Financial Services eBook
Even the most exciting technology will remain sidelined unless you can effectively put it to work for your business. Our Analytics & AI team offers some clarity around AI in the Financial Industry.
NVIDIA Omniverse™: An Open Platform Built for Virtual Collaboration & Real-Time Simulation
NVIDIA Omniverse™ is a cloud-native, multi-GPU enabled open platform for virtual collaboration and real-time photorealistic simulation. Omniverse runs on any NVIDIA RTX™ device—from a laptop to a server—transforming complex 3D production workflows. Built on Pixar's USD, Omniverse celebrates open standards. Creators, designers and engineers can now unite their assets, libraries and software applications within Omniverse, freely iterate on design concepts in real time, and instantly share breathtaking, high-fidelity models to any device.
WWT's AI/ML, virtualization and analytics experts leverage the power by our Advanced Technology Center (ATC) innovation ecosystem to design, test and prove out NVIDIA GPU infrastructure and software solutions for our customers.
To learn more about WWT's extensive NVIDIA capabilities, speak with an expert or access our hands-on and virtual NVIDIA lab environments, please complete our Contact Us form.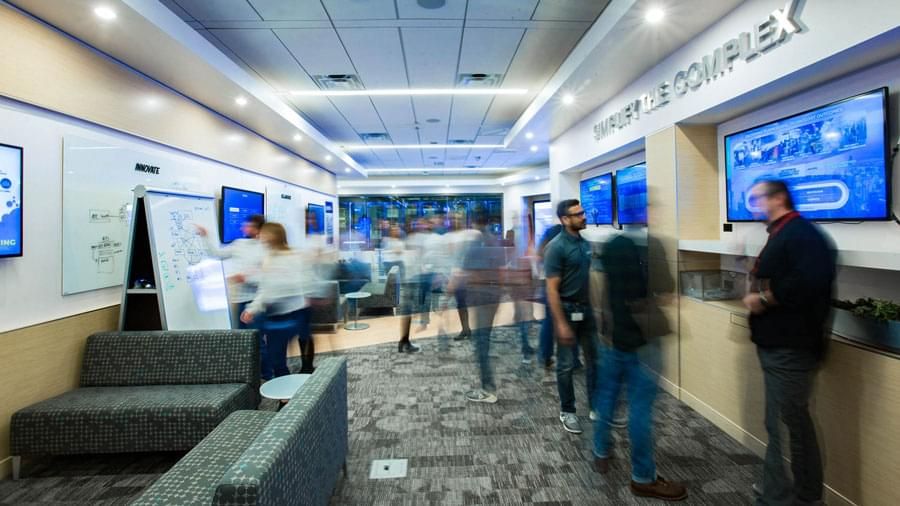 Deep Learning Partner of the Year
– Americas –
2017
Deep Learning Partner of the Year
– Americas –
2018
Deep Learning Partner of the Year
– Americas –
2019
AI Solutions Partner of the Year
– Americas –
2020
AI Solutions Partner of the Year
– Americas & Private Sector –
2021