Collaboration System Release 12.5 Administration Lab
Solution Overview
Cisco Unified Communications software provides the foundation components of all Cisco voice, video and omnichannel systems. The Collaboration System Release 12.5 software is a feature-rich platform providing the base for all other systems, such as contact center and telepresence systems. This is the latest release of Cisco's Unified Communications platform and the system customers will use after upgrading their current systems. Learn the basics of device and user administration in this two-hour hands-on lab exercise.
This technical lab builds on the knowledge gained in the Collaboration System Release 12.5 Configuration Lab by walking the student through the adding of users along with building and testing devices.
Once the lab is configured, the student can use this lab as a safe space to test additional features, dial plan changes or other functions they likely wouldn't otherwise be able to test in a production environment.
Anyone who installs, configures or maintains a Cisco Unified Communications environment will benefit from this on-demand lab.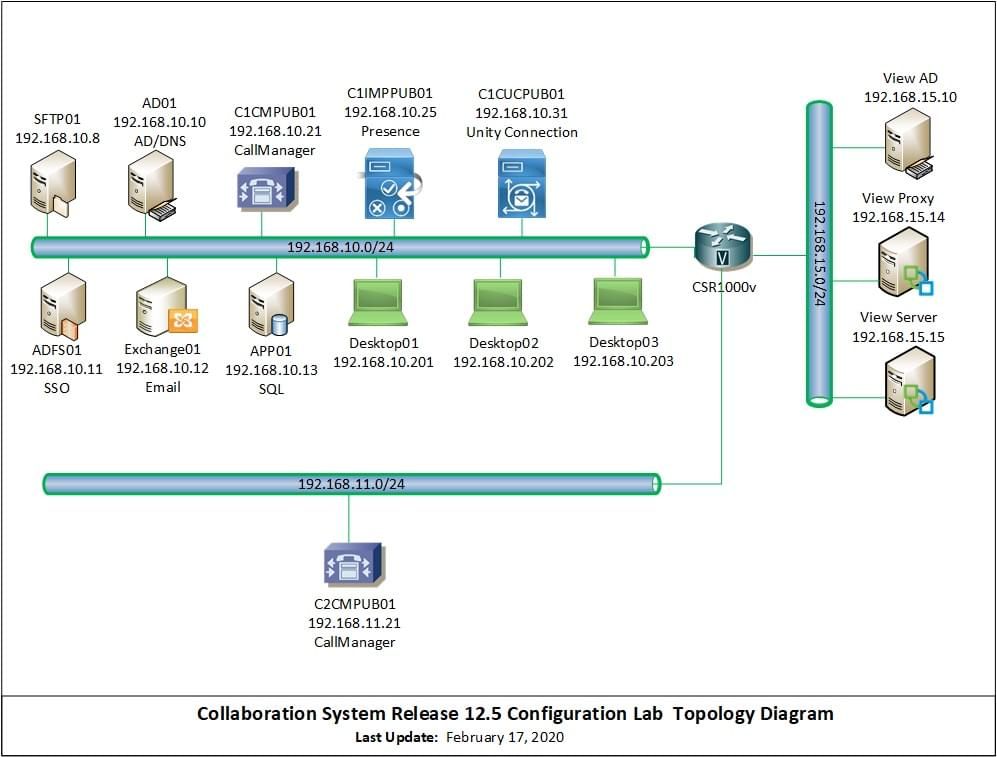 Goals & Objectives
This lab provides a sandbox environment with typical software found in a customer environment. Students will administrator a typical Cisco voice and chat environment in a step-by-step fashion, which may then be used for testing and further study.

Students perform the following activities:
Licensing of Cisco Call Manager and Unity Connection using Smart Licensing.
Configuring LDAP Directory Sync on Call Manager.
Perform LDAP Sync and finalize End User Configuration.
Build Jabber Devices for Users.
Associate Devices to Users.
Configuring LDAP Directory Sync on Unity Connection.
Import Users from LDAP and create Voicemail for each.
Verify User and Jabber Configuration.
Test Calling, Voicemail, Presence and Chat with the Jabber Client.
Hardware & Software
This lab consists of the following components:
Cisco Call Manager 12.5
Cisco Unity Connection 12.5
Cisco Instant Messaging and Presence 12.5
Cisco Jabber for Windows 12.5
Microsoft Windows 2016 Active Directory/DNS
Microsoft Exchange 2016
Microsoft Windows 10 Desktops
VMWare Horizon VDI 7.8