Advanced Configuration Lab
 · On-demand
Cisco ACI Multisite Lab 1 - Dual site APIC Setup, Best Practices Lab and Tutorial
Advanced Configuration Lab
Solution overview
Cisco's ACI Anywhere vision is to allow a single security and connectivity policy with a single pane of glass to manage all multi-cloud environments. The key to ACI Anywhere is the ACI Multi-Site Orchestrator (MSO), which allows the administrator to create consistent security and connectivity policies across multiple physical, virtual, and cloud-based sites.
Please note that these four ACI Multisite lab modules are 301 level and our 101 and 201 ACI training labs should be completed before attempting these labs. Please refer to the syllybus under the Resources and follow our recommended path to ACI competency
Module 1 will cover:
VXLAN 101 and ACI 101
Lab 1 Initial APIC setup (EAST and WEST)
Lab 2 ACI Fabric discovery
Lab 3 APIC GUI walk-through and Tenant creation
Lab 4 Fabric Setup and creating a backup for module 2
Basic ACI concepts, labs, and tutorials are explained in great detail in our ACI 101 and 202 level training labs. In addition, we also recommend reading our articles on ACI and multi-pod and multisite fundamentals before doing the labs for a thorough learning experience. Please download our recommended syllabus in the resources section of the labs.
This series of 4 ACI Multisite lab modules will go through all the steps necessary to bring up an ACI Multi-Site environment from scratch. It will be divided into 4 modules for the student to easily consume.
When you get through with the first module you can continue if you have time or stop. If you stop you can deploy the second module, and it will leave off where you finished the module before. You can also continue in the doc-as-code lab guide if you have the time to go through all the modules or just 2 or 3 modules. This set of labs was designed to be flexible, so as you have more time, you can proceed to a second, third, or fourth module using the hyperlinks below.
Lab diagram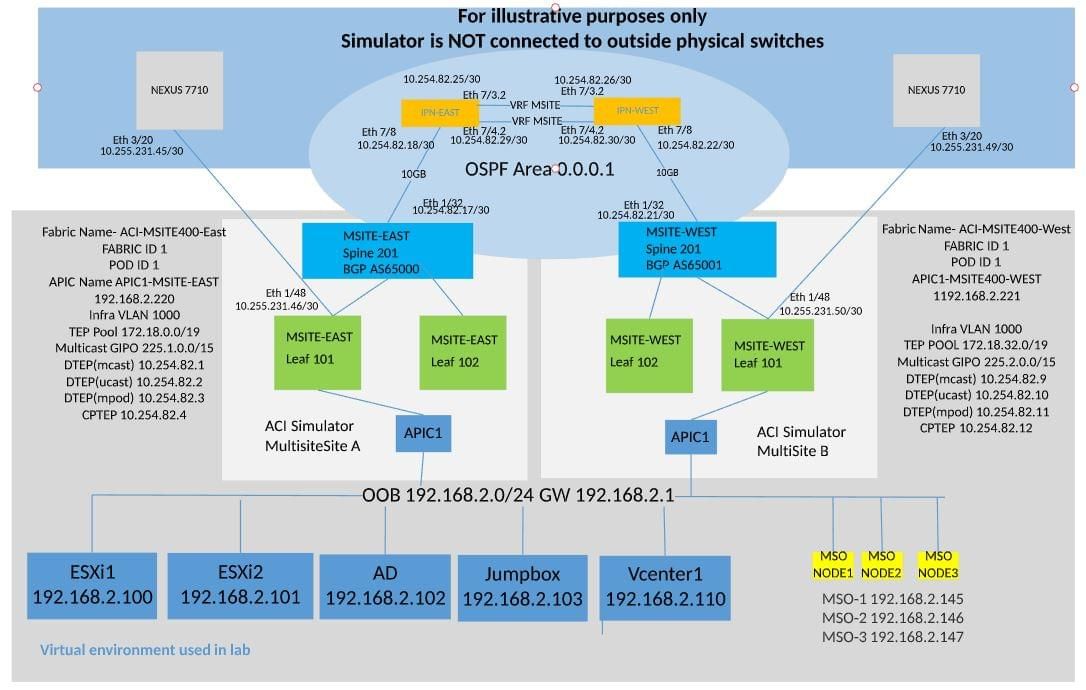 What's next?
Learn more about Data Center Networking, stay up-to-date with the industry and the new technology we have at WWT.