Cisco ACI Module 4 - ACI Multisite Orchestrator Deep Dive Lab and Tutorial
Solution Overview
Cisco's ACI Anywhere vision is to allow a single security and connectivity policy with a single pane of glass to manage all multicloud environments. The key to ACI Anywhere is the ACI Multi-Site Orchestrator (MSO), which allows the administrator to create consistent security and connectivity policies across multiple physical, virtual and cloud-based sites.
This series of 4 lab modules will go through all the steps necessary to bring up an ACI Multi-Site environment from scratch and is divided into modules for the student to consume easier.
Please note that it is one of several parts of the overall deployment of the multi-site environment. The labs are broken into modules; when you get through with the first module, you will deploy the second module, and it will leave off where you finished the module before. You can also continue in the doc as code lab guide if you have the time to go through all the modules or just 2 or 3 modules. This set of labs was designed to be flexible, so as you have more time, you can proceed to a second module.
Module 4
MSO install and deploying policy from MSO
Lab 11 Restoring back to module 3
Lab 12 Creating the MSO Cluster
Lab 13 Multisite Orchestrator GUI Walk-through
Lab 13 Importing MSITE-EAST and MSITE-WEST into MSO
Lab 14 Creating APIC spine policies and ISN connectivity
lab 15 Creating the Infra policies using the MSO
Lab 16 Creating a Tenant in MSO
Lab 17 Creating the Shema and templates for MSITE
Lab 18 Creating policy inside the templates and deploying to sites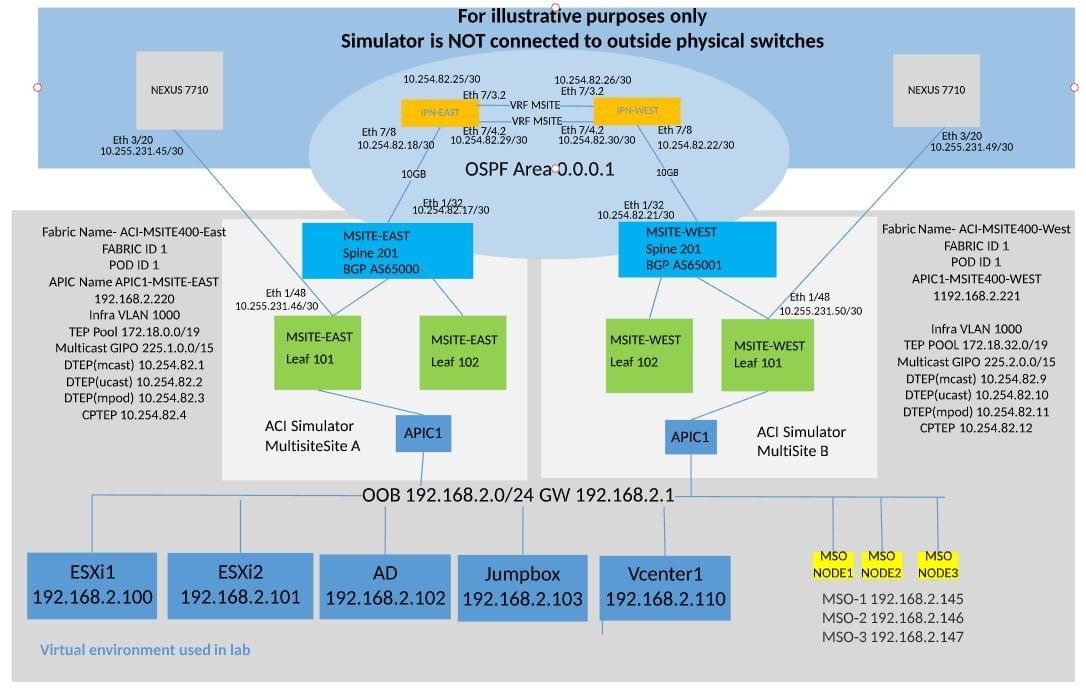 Goals & Objectives
The goal of the following series of multi-site labs is to familiarize the student with the concepts of configuring an ACI fabric from scratch, deploying and configuring the MSO and adding the ACI fabrics to the MSO. Basic concepts of ACI Tenants, application profiles, EPGs and bridge domains will be presented, and the student will see how these ACI policy constructs can be managed either in ACI or using the MSO.
ACI policies will be configured on the ACI spine switches for connectivity to the ISN (Inter-Site Network), which allows the ACI fabrics to form one large fabric to be managed by the MSO. Using the MSO, students will be introduced to configuring the ACI infra policy to connect the spines and ISNs, then using the MSO to configure ACI policy using Tenants, schemas and templates.