Hybrid Cloud Management With Morpheus Lab
Solution Overview
Gain a better understanding of Morpheus Hybrid Cloud Management and some of its capabilities. Morpheus is an extensive solution that contains over a 100 codeless out-of-the-box integrations that allow an organization to automate, optimize and govern a public/private cloud, while giving users a single point for self-service. The goal of this lab is to allow you to get hands on with Morpheus from an end user perspective, utilizing the standard user interface or the self service portal, and gain an understanding of an admin view for exploring reporting, guidance and analytics.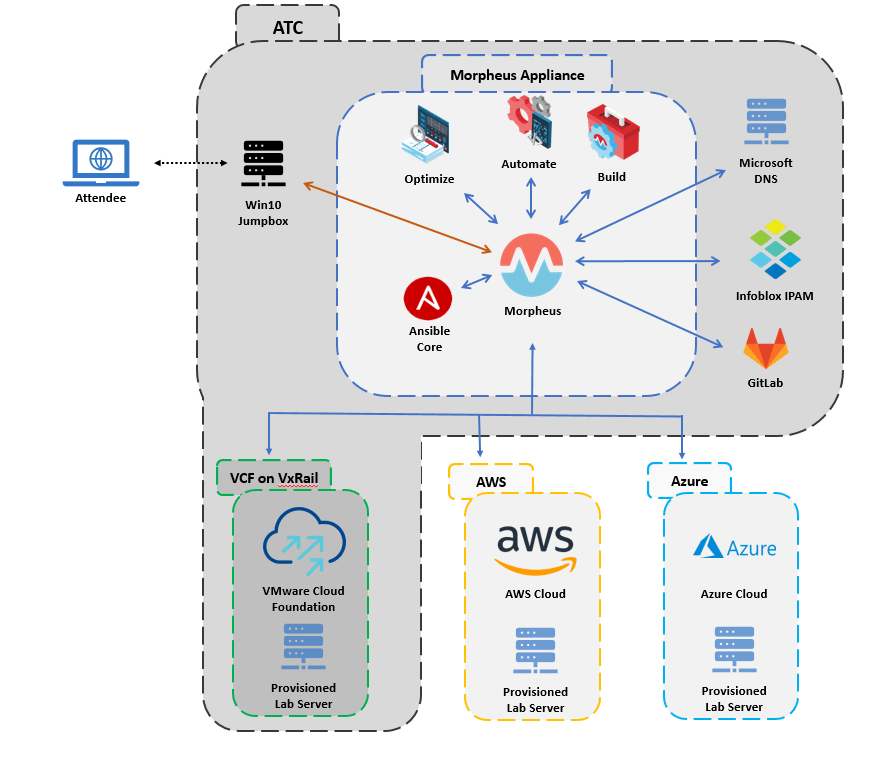 Goals & Objectives
This lab is broken down into multiple modules that can be done in any order you choose.
Module 1: Deploy a MySQL Database instance with Day 2 actions - Standard Persona (30 to 45 minutes)
Leverage Morpheus with Ansible to automate a deployment of a MySQL Database on Ubuntu. Secondly, we will perform day 2 operations to create additional databases within our instance. This will be a simple lab walking you through the end user perspective utilizing the Standard Persona view.
Module 2: Deploy a MySQL Database instance with Day 2 actions - Service Catalog Persona (30 to 45 Minutes)
Perform the same steps as outlined in Module 1, but from the Service Catalog Persona view.
Module 3: Approvals with Enhanced Automation (20 - 30 Minutes)
Utilize the out of the box approval and governance features of Morpheus to deploy an Instance and showcase how those features were configured in the lab. Further, enhance the default approval abilities by leveraging the automation and API features to auto approve requests that fall inside certain thresholds. Lastly, work through the approval process and see these features in action.
Module 4: Reporting, Analytics, Guidance, and Costing (20 - 30 Minutes)
Hands-on opportunity to work through many different operational tasks within Morpheus. This will include views into accounts, infrastructure, provisioning, cloud usage, costing, analytics and guidance.