Foundations Lab
 · On-demand
Juniper SSR SD-WAN Foundation Lab
Solution overview
The Juniper SSR SD-WAN Foundations Lab is a capability of the Advanced Technology Center (ATC) designed to showcase the concept of a Juniper Session Smart Network and demonstrates how it functions in a real-world scenario. The environment that supports the lab is completely virtual, removing any hardware dependencies associated with physical infrastructure.
Juniper's SD-WAN solution offers a unique approach to networking through the use of a new routing architecture known as Secure Vector Routing (SVR). SVR transforms the way Juniper's edge devices communicate across the WAN by allowing them to speak the language of sessions, the same language applications and services use. This approach removes the need for tunnel-based network overlays and reduces overall bandwidth consumption, improved 'goodput' percentage and user experience, while minimizing costs and complexities.
Juniper SSR SD-WAN is comprised of the following key components:
Session Smart Conductor - Orchestrates and manages each Session Smart Router on the fabric through the provided web GUI, while offering various tools and features such as administration, zero-touch provisioning (ZTP), monitoring and analytics while maintaining a network-wide, multitenant service and policy data model from within a single centralized location.
Session Smart Router - Combines a service-centric control plane and a sessions-aware data plane to offer IP routing, policy management, improved visibility and proactive analytics.
Lab diagram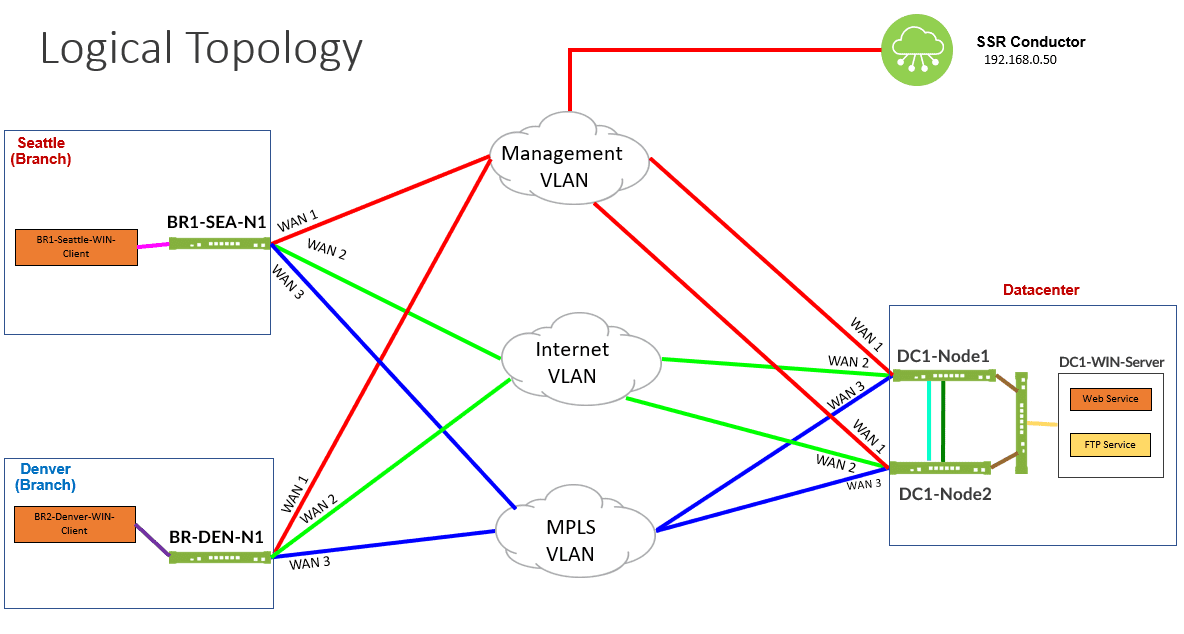 What's next?
Learn more about Software Defined WAN (SD-WAN), stay up-to-date with the industry and the new technology we have at WWT.