About Apple & WWT
WWT is authorized as an Apple VAR Partner collaborating with Apple® on providing transformational digital solutions for our customers around the world.
WWT's portfolio of application software and digital workspace solutions paired with Apple devices, software and services help business change the way work gets done.
Services and solutions include:
Application development services to unleash the power of Apple devices and create amazing employee and customer experiences.
Global supply chain to integrate Apple devices and deploy at scale.
Bringing both strategy and execution expertise and capabilities to fully utilize the Apple ecosystem.
Device Enrollment Program
Online service that automates the enrollment and configuration of Apple OS X and iOS devices in an organization's mobile device management software.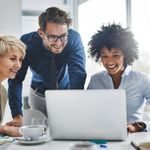 Start your journey today
Reach out to learn more about our Apple capabilities or speak with an expert.