About BigPanda & WWT
WWT is empowering IT Operations with intelligent architecture paired with artificial intelligence and machine learning. Partnership with Big Panda has been critical in turning vision into reality for many of WWT customers.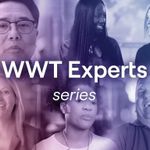 Event
webinar
WWT Experts: Tanner Bechtel on AIOps
Grab a quick dose of deep expertise with the WWT Expert series. In each episode, our host poses topical questions to a WWT Expert. Learn about the business solutions these experts have created, the technologies they've mastered and the trends they're seeing in the marketplace. All in 30 minutes or less. AIOps brings artificial intelligence and machine learning to IT operations. Monitoring and managing hybrid and dynamic IT environments are essential pieces of your AIOps journey. AIOps allows you to transform your IT operations, and work smarter and faster -- all while reducing mean time to recovery, operational costs and most importantly, application downtime. Our WWT Experts host, Matthew Coble, will be joined this week by AIOps extraordinaire, Tanner Bechtel. He is a technology leader with nearly 20 years experience and knower of all things AIOps.
May 31, 2022 • 12 pm (CDT)