Partner Spotlight:
Rubrik & WWT
WWT and Rubrik Solving Data Management Challenge. Data backup to the cloud is about moving forward. Cloud storage and data management are indispensable tools in today's hyper-connected and data-driven world.
WWT has grown to become one of Rubrik's most strategic partners, ensuring that data is stored securely and efficiently so that our customers can drive innovation. WWT and Rubrik have aligned to create a collective of experts ready to support our joint customers.
Tech leaders David Willis Corporate Vice President, US One Commercial Partner at Microsoft, Wendy Bahr, Rubrik Chief Commercial Officer and Dave Sellers, GM of Multicloud at WWT discuss the importance of a cloud smart strategy and how customers are making the transition to the cloud with simplification and ease.
WWT and Rubrik Solutions
There are four key enablers to the success of data-driven businesses – cloud, automation, cyber resiliency and backup modernization. Each pillar addresses a specific challenge that companies face as well as a prospect for growth, operational efficiency and innovation. Discover how the modern data management solutions that WWT and Rubrik jointly deliver encompass all four pillars.
Increase Business Value With Smart Cloud Solutions
The cloud was built to safely and affordably store data. With data growing exponentially, cloud data management is a necessary economic reality for most businesses. WWT and Rubrik's cloud solutions increase IT agility, enhance personnel ROI and scale easily.
Support Security and Privacy With Cyber & Data Resiliency
Statistically speaking, you are going to be breached — the question is, how quickly can you restore your data? WWT and Rubrik's data management solutions enable a continuous stream of recovery points to minimize data loss in the event of a failure, and our immutable file systems assure customers that backups cannot be encrypted or deleted by a ransomware attack. Additionally, Rubrik's solutions help customers quickly determine the scope of the attack and offer a 3-click GUI for rapid restore.
Replication and Disaster Recovery
Companies often lack the resources to manage, secure and back up escalating data. Together, WWT and Rubrik deliver 75+ integrations and SDKs that free employees to work on higher-priority tasks and help increase business profits through improved efficiency.
Propel Enterprise Forward With Backup Modernization
Companies that still back up using legacy architectures face backup gaps due to latency, human error, lack of cloud integration and/or slow recoveries. The modern automation that WWT and Rubrik solutions provide eliminates the Tetris-like job-scheduling, blackout windows and garbage collection exercises created by legacy solutions. And it gives users smart cloud with choice.
Our Advanced Technology Center (ATC) is a collaborative ecosystem where customers are able to explore how Rubrik fits into integrated architectural solutions that further accelerate their digital transformation. The ATC, itself a software-defined next-generation data center, helps customers explore and prove out any Rubrik technology.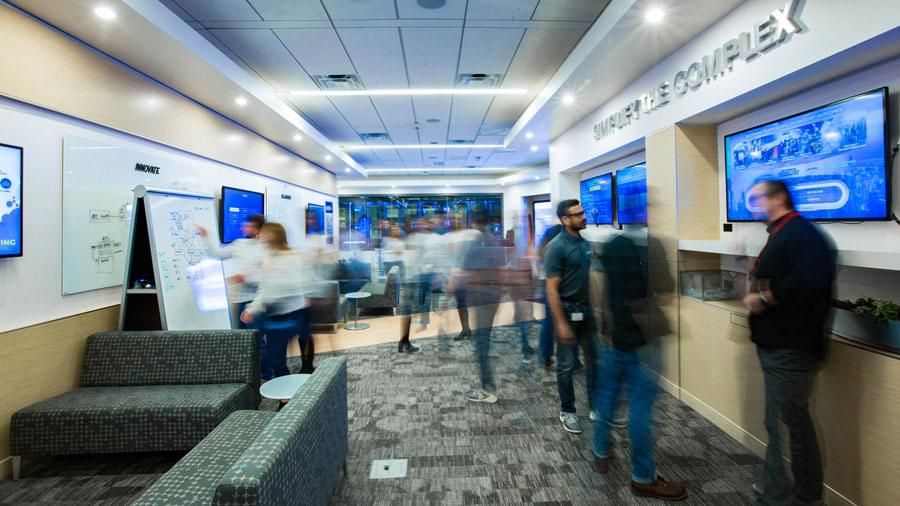 Rubrik Cloud Data Management Essentials
A software-defined platform that unifies backup, instant recovery, replication, search, analytics, archival, compliance and copy data management in one secure fabric across the data center and cloud.
Rubrik Accelerator for Microsoft Azure (RAMA)
Whether it's on-prem or in Azure, Rubrik powers on apps for recovery, search, analytics, and test/dev. Deploy Rubrik on-prem via plug-and-play appliances or as software. Replicate your on-prem apps and data to Azure. Quickly spin up apps in Azure as a cost-effective DR solution or for test/dev.
Rubrik Cloud Data Management Lab Overview (Playlist)
In this series we'll cover Rubrik Cloud Data Management, including an overview of the essential functions to set up, protect, recover and report using a lab environment.
To learn more about our Rubrik capabilities, speak with an expert or take advantage of what we have in our labs, please complete our Contact Us form.