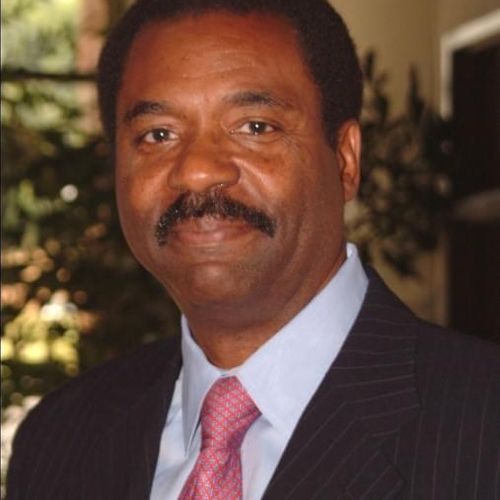 David Steward
World Wide Technology
Founder and Chairman of the Board
About David
David L. Steward is an entrepreneur, civic leader, philanthropist and the founder and chairman of World Wide Technology, the largest Black-owned company in the United States. He is committed to expanding opportunities for Blacks and others from historically under-represented and underserved communities.
"Talent is equally distributed; opportunity is not," Mr. Steward says. "We need to change that by inspiring and igniting untapped potential. Diversity and inclusion are essential to innovation; both foster stronger business outcomes."
Creating and developing strong business relationships are hallmarks of Mr. Steward's ability to grow a business. After being named the top sales executive for FedEx, he set out to fulfill a lifelong dream: own a company. After creating two successful startup companies, Mr. Steward began WWT in 1990 with a handful of employees and a 4,000 square foot office. WWT currently operates in 4 million square feet of warehousing, distribution, and integration space in more than 20 facilities throughout the world. The company employs more than 9,000 people globally and generates over $14.5 billion in annual revenue.
Specializing in cloud capabilities, data center and virtualization, security, mobility and networking technologies along with voice, video, and collaboration solutions, World Wide Technology provides advanced technology solutions from 3,000+ manufacturers to the commercial, government, and telecom sectors.
When the National Minority Supplier Development Council (NMSDC) needed a partner to fund certified Minority Business Enterprises as part of the Small Business Administration's Paycheck Protection Program, Mr. Steward connected the organization with Orvin T. Kimbrough, Chairman and CEO of Midwest BankCentre. Kimbrough shares NMSDC's passion and philosophy about supporting minority businesses.
In 2021, WWT was the presenting sponsor of NMSDC's Business Opportunity Exchange. Mr. Steward said, "It is important that we lead by example. Our journey to becoming a $13 billion company wouldn't be possible without the support of this Council. WWT was certified by the Council 27 years ago. This relationship has given us so many opportunities to connect with other member companies, a key ingredient in our success."
Mr. Steward and WWT recently committed $2.5 million to NMSDC's 50 for 50 Capital Campaign: Champions for Equity.
"When I became CEO of NMSDC, one of the first leaders I reached out to was Dave Steward," said Ying McGuire, CEO and President.
"Dave is a role model for entrepreneurs of colors everywhere. His business, World Wide Technology (WWT) is the largest NMSDC-certified minority business enterprise (MBE) and his decades-long, unwavering support of the organization has been invaluable. He has helped NMSDC better connect MBEs with corporations striving to include historically underrepresented groups in their supply chains.
"The strength of his leadership is reflected in his support of our 50 for 50 Capital Campaign. Dave, without hesitation, committed WWT to being the first MBE to support NMSDC's efforts to build an endowment capable of ending the racial wealth gap in the next 50 years.
"WWT has committed to $500,000 a year for five years to strengthen NMSDC's ability to drive MBE growth and advance economic equity. Supporters like WWT and Dave are the key to reaching our goal of $1 trillion in MBE annual revenue," McGuire said.
WWT was first certified by the NMSDC in 1993. Today WWT is a Corporate Plus member of the NMSDC, which means it has proven that it can provide services nationwide. Each year WWT must recertify that it is a minority-owned company, including a site visit performed by a NMSDC Certification Specialist to verify that a company meets the Criteria for Certification.
Mr. Steward was the keynote speaker at the African American Mayors Association (AAMA) Annual Conference in Washington, D.C. this year. He described WWT's journey from an 8(a) Small and Disadvantaged business to becoming the largest Black-owned company in the United States.
As chairman of WWT, Mr. Steward emphasizes the role of strong cultural values, as well as the importance of collaboration between employees and departments, beginning with the company's executive team. For the eleventh year in a row, Great Place to Work® and Fortune magazine have honored WWT as one of the 100 Best Companies to Work For® in 2022. Forbes also named WWT one of America's Best Employers For Diversity. These honors demonstrate that the core values on which Mr. Steward founded WWT more than 30 years ago are still alive and well today.
"Transformation does not happen without listening, Mr. Steward says. "Our Employee Resource Groups, dedicated to diversity, equity, and inclusion, strengthen our workforce culture. These groups help members better understand others through listening, learning, and engaging. As we celebrate our employees' unique contributions to our culture and business, we put them in a position to make a meaningful impact on our business and community."
Mr. Steward communicates with WWT employees often through his Chairman's Newsletters. They are accessible here on wwt.com.
Another example of Mr. Steward's commitment and support for diversity, equity, and inclusion is motorsports. Mr. Steward was invited in 2019 to be the keynote speaker at the sports diversity and inclusion symposium in Daytona Beach, Florida. That is when he started helping NASCAR find ways to expand beyond their legacy fan base. NASCAR recognizes the value of diversity and that it allows them to go faster and farther in their workplaces, at the racetracks, and in the stands.
A significant event that changed NASCAR's future involves Mr. Steward and Darrell "Bubba" Wallace Jr., who represents the best of world-class racing. Wallace is helping change the sport and creating a positive future for teams and fans. Mr. Steward was a behind-the-scenes counselor to Wallace during his historic stand on the Confederate flag and its removal from all NASCAR venues and events.
"David Steward has a tremendous passion for racing, philanthropy and driving inclusion," NASCAR president Steve Phelps told the St. Louis Post-Dispatch. "When you couple that with his track record of leadership driving change, he is an incredible ambassador to welcome new audiences to NASCAR."
Mr. Steward and his family are stalwart supporters of the late Wendell Scott's family. Scott was one of the first African American drivers in NASCAR and the first African‑American to win a race in the Grand National Series, NASCAR's highest level.
World Wide Technology and Mr. Steward also are advancing STEM education for underserved and underrepresented youth and driving inclusion and equity for the ever-expanding opportunities in the digital world. Mr. Steward and WWT invest time, talent, and funds in several important STEM programs that aim to elevate under-served and under-represented communities.
WWT hosts mentorship programs with Hawthorn Leadership School for Girls, a nonprofit organization located in St. Louis. WWT employees serve on the board and connect WWT mentors with middle-school and high-school girls to explore various career paths within WWT and demonstrate how skills and abilities such as critical thinking and emotional intelligence translate into the professional world.
WWT employees volunteer as mentors for NPower, which creates pathways to economic prosperity by launching digital careers for young adults from underserved communities.
BEYA (Black Engineer of the Year program) features the largest gathering of science, technology, engineering, and math (STEM) professionals, corporate sponsors, students, and top military and civilian federal government leaders — all committed to increasing the percentage of people from historically underrepresented communities in the STEM workforce. WWT supports BEYA with funding and mentors.
In partnership with BEYA, the Women of Color Conference is an annual multicultural event that has promoted career advancement, provided a platform for networking and education, and honored women in the fields of STEM since 1995.
In 2022 WWT hosted the seventh annual St. Louis STEM Student Forum and Hackathon. The completely virtual program invited 24 high schools and more than 174 students to participate in the forum. Each school's team was paired with one of the 35+ WWT mentors. The program helps improve academic proficiency while providing a competitive advantage for college enrollment and increasing awareness in STEM.
Boys Hope Girls Hope (BHGH) is an international organization centered on cultivating youth empowerment through the foundation of education and holistic support. BHGH affiliates help academically capable children in need to meet their full potential by providing value-centered opportunities and education. WWT is committed to BHGH through board leadership and technology support.
To support diversifying the STEM workforce pipeline, WWT works directly with the nonprofit LaunchCode to help learners with zero technical skills advance to entry-level developers with the help of a community-style learning model. WWT employees volunteer as mock interviewers, professional mentors, and apprenticeship managers. Apprentices placed at WWT have gone on to secure full-time positions at the company. In the past 18 months, WWT has hired 13 LaunchCode graduates, the majority of whom are racially diverse or women. WWT and LaunchCode have entered an exciting partnership to expand LaunchCode to Detroit, Michigan.
Since 2018, WWT has partnered with KPMG and Mastercard to host a Future Ready Lab internship program for high-school students with the National Academy Foundation (NAF). WWT employee volunteers provided educational programming whereby interns interacted with multiple lines of WWT businesses, completed work-study courses and participated in panels highlighting opportunities for technical education and careers.
Mr. Steward also has supported many professional organizations with missions to grow and develop diverse talent within the information technology sector, including HITEC, ITSMF, and BDPA.
Approximately 100 million people in this country are affected by incarceration, making it one of today's most significant societal issues. Mr. Steward is a major supporter of the Concordance Academy of Leadership, a major initiative aimed at breaking the cycle of reincarceration and forging a path toward equity by supporting people who have been released from prison and are re-entering society. He chairs The First Chance Campaign, a $100 million fundraising effort to expand this re-entry model to 11 additional U.S. cities over the next five years.
Mr. Steward is actively involved in several additional organizations that work to advance diversity, equity, and inclusion for historically under-served or under-represented communities:
National Urban League; Urban League of Metropolitan St. Louis
Boy Scouts of America
Jackie Joyner-Kersee Foundation
Mr. Steward was born in Chicago and shortly after moved with his family to the small rural town of Clinton, Missouri. After graduating from Central Missouri State University in 1973 with a Bachelor of Science in business management, Mr. Steward moved to St. Louis. He was the first person of color ever hired by the Missouri Pacific Railroad to sell rail services. After leaving Missouri Pacific, he joined Federal Express as a senior account executive. Mr. Steward was recognized as the FedEx salesman of the year in 1981 and was inducted into the company's Sales Hall of Fame.
In addition to his business success, Mr. Steward is the author of two books. Doing Business by The Good Book, published in 2004, matches scriptural messages with guidelines for sound business practice and provides a foundation for aligning one's personal beliefs with professional conduct. Published in 2020, Leadership by the Good Book offers real-life examples matched with Biblical references about leadership, featuring interviews from high-profile, successful Christian business leaders from around the world.
Mr. Steward is a Member of the Horatio Alger Association of Distinguished Americans; Council Vice President for the Greater St. Louis Area Council, Boy Scouts of America (BSA) and Executive Board Member of National Boy Scouts of America; Chairman Emeritus of Variety the Children's Charity of St. Louis. He serves on the Executive Committee of Greater St. Louis, Inc. and the boards of Concordance Academy of Leadership, National Academy Foundation (NAF), Washington University, United Way of Greater St. Louis, Biblical Business Training and more.
Mr. Steward holds an Honorary Doctor of Laws from Washington University, as well as Honorary Doctorates in Humane Letters from numerous colleges and universities.
Among his many awards, Mr. Steward has been recognized as the 2012 Black Engineer of the Year (BEYA) and the 2015 St. Louis Post-Dispatch Citizen of the Year. Together, Mr. Steward and his wife, Thelma, have received the Jane and Whitney Harris St. Louis Community Service Award. Variety The Children's Charity of St. Louis also honored them with their Man and Woman of the Year Award.
The Stewards have been married for over 46 years and have two children and two grandchildren. Their son, Dave Steward II, is the CEO of Polarity, LLC, the only Black-owned digital animation studio in the United States [whose credits include the Oscar-winning Animated Short Hair Love]. Their daughter, Kimberly, is the CEO of K Period Media, an American film production/finance company [whose credits include Oscar Award-winning movie Manchester by the Sea and Emmy nominated movie documentary Through a Lens Darkly].
Mr. and Mrs. Steward support many philanthropic and community efforts. In 2014, The Steward family supported the Grand Center revitalization with the opening of the Harold and Dorothy Mr. Steward Center for Jazz, a St. Louis performance venue that attracts world-class musicians as well as a place for education and community engagement. Mr. Steward paid homage to his parents in the naming of this impressive venue.
"I don't have a business philosophy and a personal philosophy. They are one and the same that I live by 24/7. Thelma and I come from humble backgrounds, and we have been blessed with more prosperity than we could have imagined when we were young. It is a blessing for us to give to others. The eternal return on investment (ROI) is far more important to us than the temporal one."