ThousandEyes: Five Important Things You Need to Know
The list of Application Platform Monitoring and Management (APM) tools grows by the year. ThousandEyes offers options that largely haven't been available before, which makes it awesome and exciting. In this article, we'll provide five reasons why you should consider ThousandEyes when choosing APM.
December 16, 2020
•
5 minute read
What is ThousandEyes and why should I care?
If you skipped the description above, ThousandEyes is an Application Platform Monitoring and Management (APM) solution. It provides a 360-degree view of your hybrid digital ecosystem — across cloud, SaaS and the Internet — by combining Internet and WAN visibility, browser synthetics, end-user monitoring and Internet insights. It helps troubleshoot application delivery and maps Internet performance, all from a SaaS-based platform.
Below are five reasons why you should consider ThousandEyes.
1. It's SAAS (Software as a Service) only.
This may not be a secret, but Cisco purchased ThousandEyes in May of 2020. For the unacquainted, Cisco is one of the largest technology conglomerates in the world. They develop, manufacture and sell networking hardware, software, telecommunications equipment and other high-technology services and products.
Cisco has incorporated ThousandEyes capabilities across their core networking, cloud, security and application suites. What this means concerning APM is that they own thousands of data centers around the world (193 metro locations), allowing monitoring vantage points from anywhere. This provides complete application path coverage no matter where traffic starts.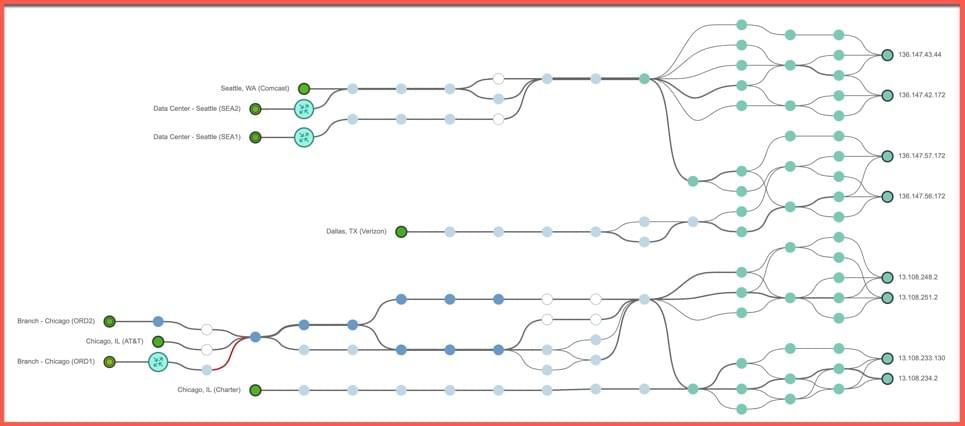 2. It allows monitoring of application performance across the Internet.
To present a more global view of outages across the ThousandEyes monitoring platform, the Internet Insights module provides visibility into core Internet infrastructure and traces the impact of macro-scale Internet events to individual users and enterprise networks at their edge devices. This visibility includes ISPs, DNS providers, IaaS, CDNs and SaaS providers. Internet events include outages, routing hijacks and leaks, DDoS attacks and political interference, as well as other events that fulfill ThousandEyes' detection criteria.
The vision is to provide maps of Internet infrastructure where packets and links between routers are represented geographically. This flexibility can be used to present ThousandEyes data in your platform of choice. It can empower teams to share data and derive insights not possible when data exists in different locations.
What this all means is that if your application makes any request to a cloud- or SaaS-hosted service, it runs across the Internet, which is outside your control. ThousandEyes provides visibility into this.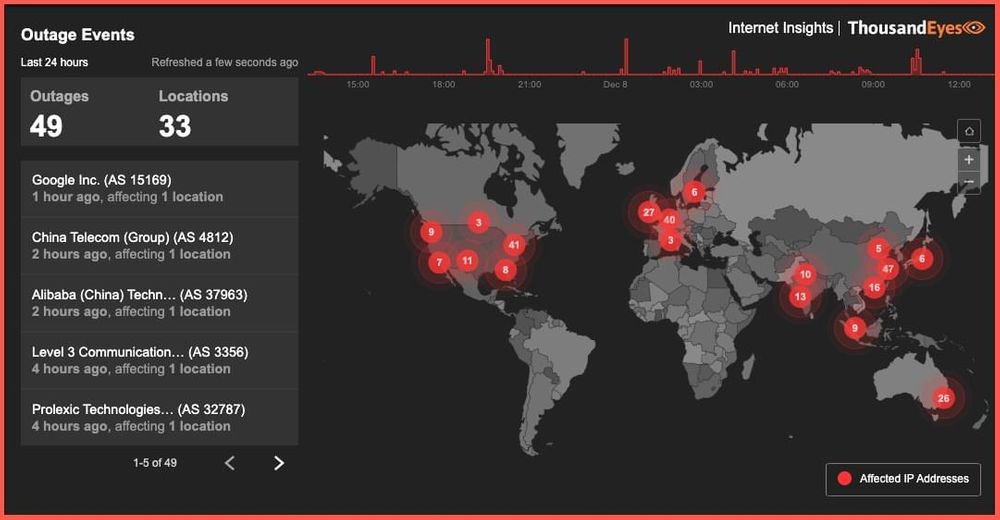 3. ThousandEyes has usage-based licensing.
ThousandEyes uses an annual subscription model based on your visibility needs and is calculated on the number, type and frequency of monitoring tests being run. In simple terms, you only pay for what you actively use. There are no fixed pricing tiers, base fees or hidden costs.
ThousandEyes provides two major components with test units and endpoints. Test units provide active monitoring for your application and include application-aware network monitoring, web app monitoring (DNS, BGP route, HTTP, FTP, Browser) and VoIP/UCaaS (Unified Communications as a Service) monitoring. Endpoints provide the end user perspective of an application and are usually deployed on employee devices. They provide information on user session details, network path visualization, Wi-Fi access point SSID and signal strength. Endpoints also provide VPN gateway, proxy and DNS server monitoring.
Included in the subscription model pricing is the aforementioned access to cloud agents in 193 metro locations around the world, unlimited enterprise agents to deploy within your on-premise environment, native REST API for ecosystem integrations and 24/7 access to ThousandEyes support teams and consultants.
4. ThousandEyes integrates with AppDynamics.
As we've already stated, Cisco owns ThousandEyes. Cisco also owns AppDynamics, which is the world's leading APM tool. At first glance, it seems like they are in direct competition with each other, but they work better together to give you a complete view of your application environment(s), including any cloud-based or cloud-hybrid services it integrates with along the path to your customers.
ThousandEyes dashboard widgets can be extended to an AppDynamics dashboard. Alerts from ThousandEyes can be sent to AppDynamics to take action. AppDynamics can send Health Rule violations to ThousandEyes to gather additional information during the violation window. ThousandEyes can add a header to test traffic so AppDynamics can use it to provide more detailed tracing and better data correlation between both tools. Putting the two together provides a single view of your application environment(s).
We like the idea of AppDynamics and ThousandEyes together so much, we've already written about it.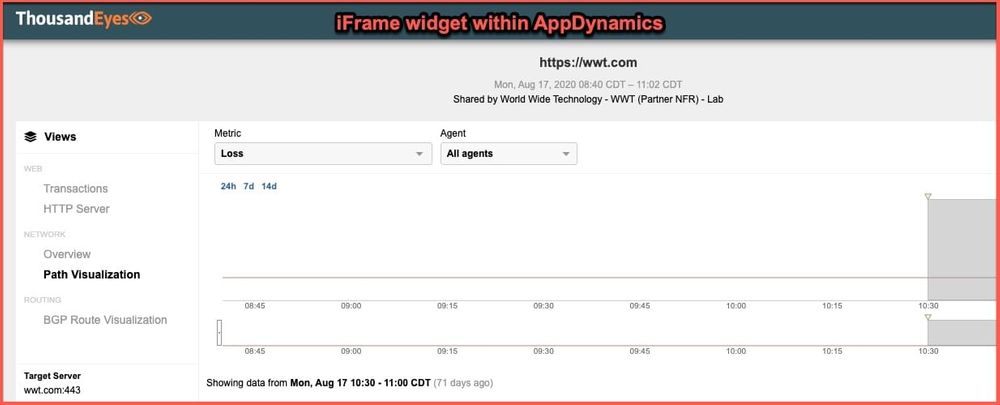 5. ThousandEyes has a powerful Application Programming Interface (API).
Out-of-the-box tests not meeting your needs? Create your own! Spending extensive time to manually create tests? ThousandEyes can automate them! The ThousandEyes API uses the standardized HTTP protocol and XML/JSON response formats, and it's compatible with a number of platforms including Microsoft .NET, Python, PHP and Powershell. To access the API, you must have an account and set up a basic authentication token as part of all HTTP requests. Check out the official how-to for more specific information on how to use the API for your specific needs.
Begin at the end
There you have it: five reasons why you should consider ThousandEyes when choosing an APM.
Ready to learn more about ThousandEyes and see it in action?