vRealize Automation 8 Migration Readiness Assessment Tool
CloudBolt Onefuse, a vRealize automation and extensibility partner, and WWT developed this assessment process to determine existing vRA customers' readiness to migrate to vRA 8. During this assessment, our team develops a set of recommendations for your organization to fully optimize and prepare your environment for migration.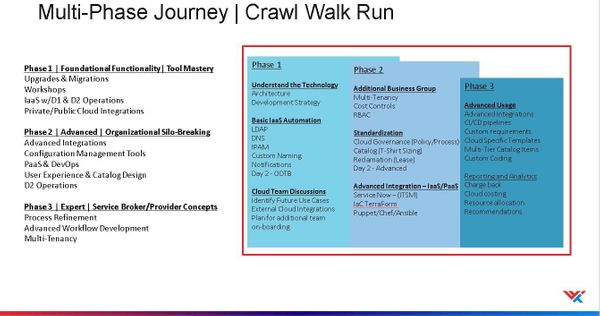 Details
As organizations increasingly embrace cloud management to accelerate the delivery of IT services through automation, it's important to have the right cloud management platform. For vRealize Automation users, the upcoming release of vRA 8 presents both opportunity and uncertainty. Our assessment process provides your organization a detailed review of your current environment and identifies areas to optimize for a successful migration.
Qualification
Customer must have vRA 7.x, as 6.x will not execute.
Assessment process
1. Access and run vRO workflow: Execute a specially designed vRO workflow that pulls key data regarding the customer's vRA environment, blueprints, custom endpoint integration and other key architectural items.
To access this file, you must be registered in the assessment tool planning log. Please reach out to WWT's ATC team by emailing john.tejada@wwt.com and dain.landis@wwt.com
2. Provide CloudBolt with the JSON file: Once the vRO workflow is executed on your environment, a JSON (plain txt) file is created and must be provided to CloudBolt.
Please work with your CSA or CSE assigned to the assessment to complete this step. Additional support can be provided from CloudBolt or WWT's ATC.
3. CloudBolt and WWT develop analysis: After the file is delivered to WWT's ATC, CloudBolt works with the ATC to run the file output through a rules engine to create a set of recommendations within a report.
4. CloudBolt and WWT share recommendations: CloudBolt works with the WWT account team or CSA to review the findings with you and provide a set of recommendations to optimize your current environment and prepare you for migration to vRA 8.x.