Key Takeaways From Intel Vision 2022
Intel Vision 2022 is a wrap, and WWT was a proud Silver Sponsor this year in Dallas. Our team was on hand to absorb myriad of announcements during the two days. Below, we would like to share our key takeaways with you. You can also watch the highlights of both keynotes for more context. If you have questions, please feel free to reach out using the link at the bottom of the article.
WWT's Principal Solutions Architect, Matt Halcomb shares some of his key-takeaways from Intel Vision 2022. Matt brings 25 years of data center expertise, 17 of those with WWT. He is our resident expert and go-to on compute, storage, hyper-converged, converged, software-defined and composable disaggregated infrastructure technologies.
Opening Keynote highlights
Pat Gelsinger focusing on what he calls "4 Superpowers" driving innovation
Ubiquitous Compute – CPU, GPU, and CXL technology advancements are driving innovation forward at a rate that the industry has never witnessed. Intel's Analytics toolkit – OneAPI will enable data scientists and application developers to use one set of libraries and software toolkit regardless of the accelerator used.
Cloud-to-Edge Infrastructure – We were very excited to hear this as a key focus and we are finally seeing our partners like Intel and Dell talk about the third leg of the stool with Cloud and on-prem being the other two legs.
Pervasive Connectivity – Intel Xeon Scalable Processors, Intel Xeon D processors, Intel Processing Units and even Intel Tofino 3 IFP (Intelligent Fabric Processor) will provide the necessary platform to deploy NFV (Network Function Virtualization) and SDN (Software-Defined Networking) solutions. Intel's Intelligent Fabric will be a combination of both hardware and software that will provide scalable, secure and flexible solution supporting vRAN and Open RAN solutions on top of 5G technology.
Artificial Intelligence – Pat was quoted saying, "If you are not applying AI to every one of your business processes, you're falling behind."
Product updates and roadmaps
IPU (Infrastructure Processing Unit) - FPGA (code-named Oak Springs Canyon) and ASICs (code-named Mount Evans) will be available by year's end. WWT is supposed to be high on the "to get both" in the Advanced Technology (ATC) as a part of the Next Generation Composition Lab. This is a new way to support and deploy networking and security solutions.
Gaudi 2 AI accelerators – Intel's Habana Labs Gaudi 2 processors will be built on a 7nm process and will have 24 integrated 100Gbe RoCE (RDMA over Converged Ethernet) ports and will have 96Gb of HBM2e (High Bandwidth Memory). Benchmarking results published in their booth showed the Gaudi 2 system delivered 2x the training throughput for BERT NLP workflows (Bidirectional Encoder Representations from Transformers - natural language processing) and Restnet-50 Vision Workflows. We are working on getting a Gaudi 1 system into the ATC first and then will get the Gaudi 2 sometime later this year. The Gaudi 1 & Gaudi 2 solutions will bring a new AI solution to the market allowing customers to have a choice in their solutions.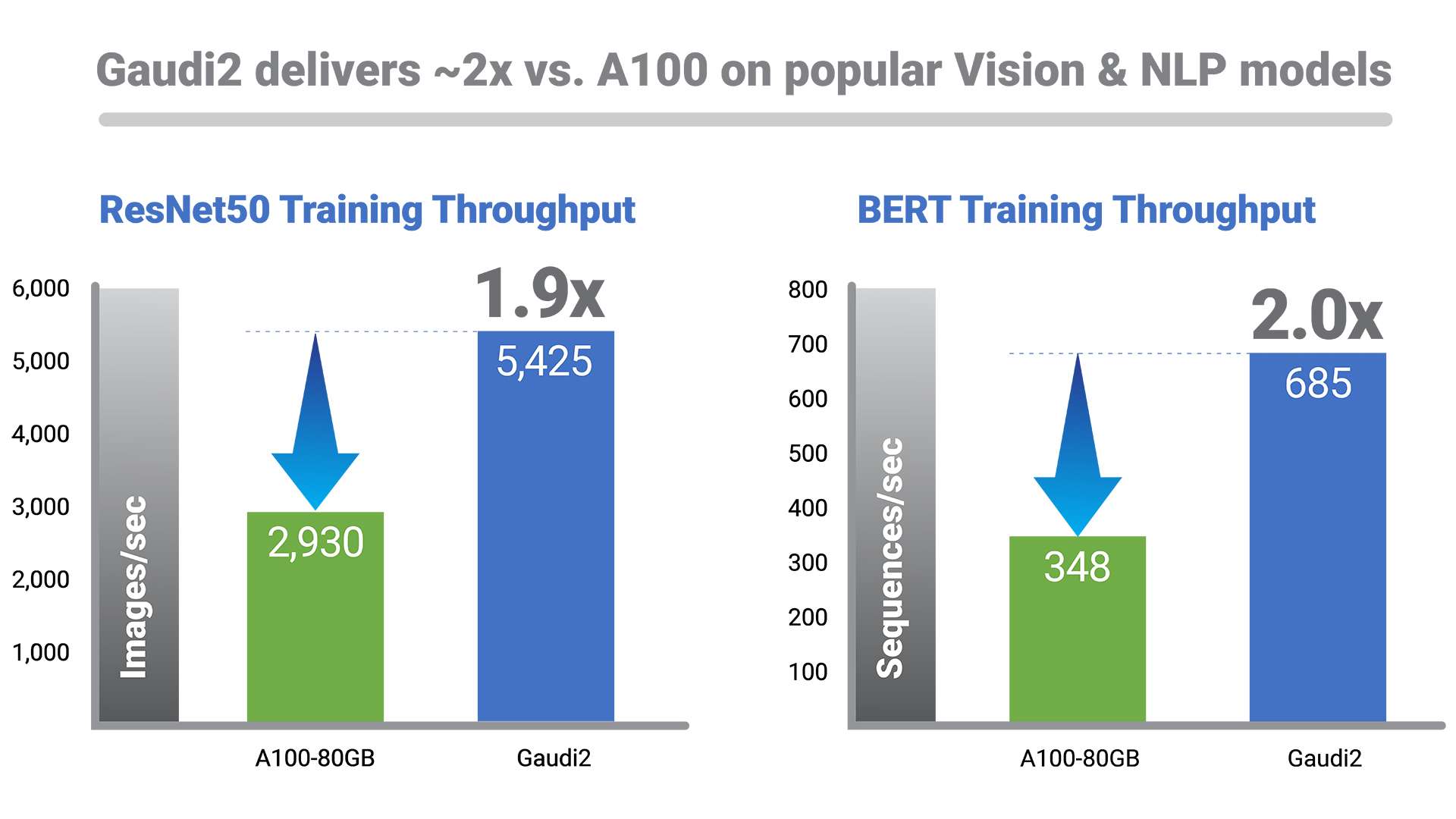 4th Gen Intel Xeon Scalable Processors (code-named Sapphire Rapids) is shipping now. The new Xeon Processor will support DDR5, PCIe 5 and be the first processor supporting Compute Express Link (CXL) 1.1 protocol. All three components are instrumental in driving innovative technologies such as "Big Memory (link to memverge)" solutions and Composable Disaggregated Infrastructure (link CDI blog).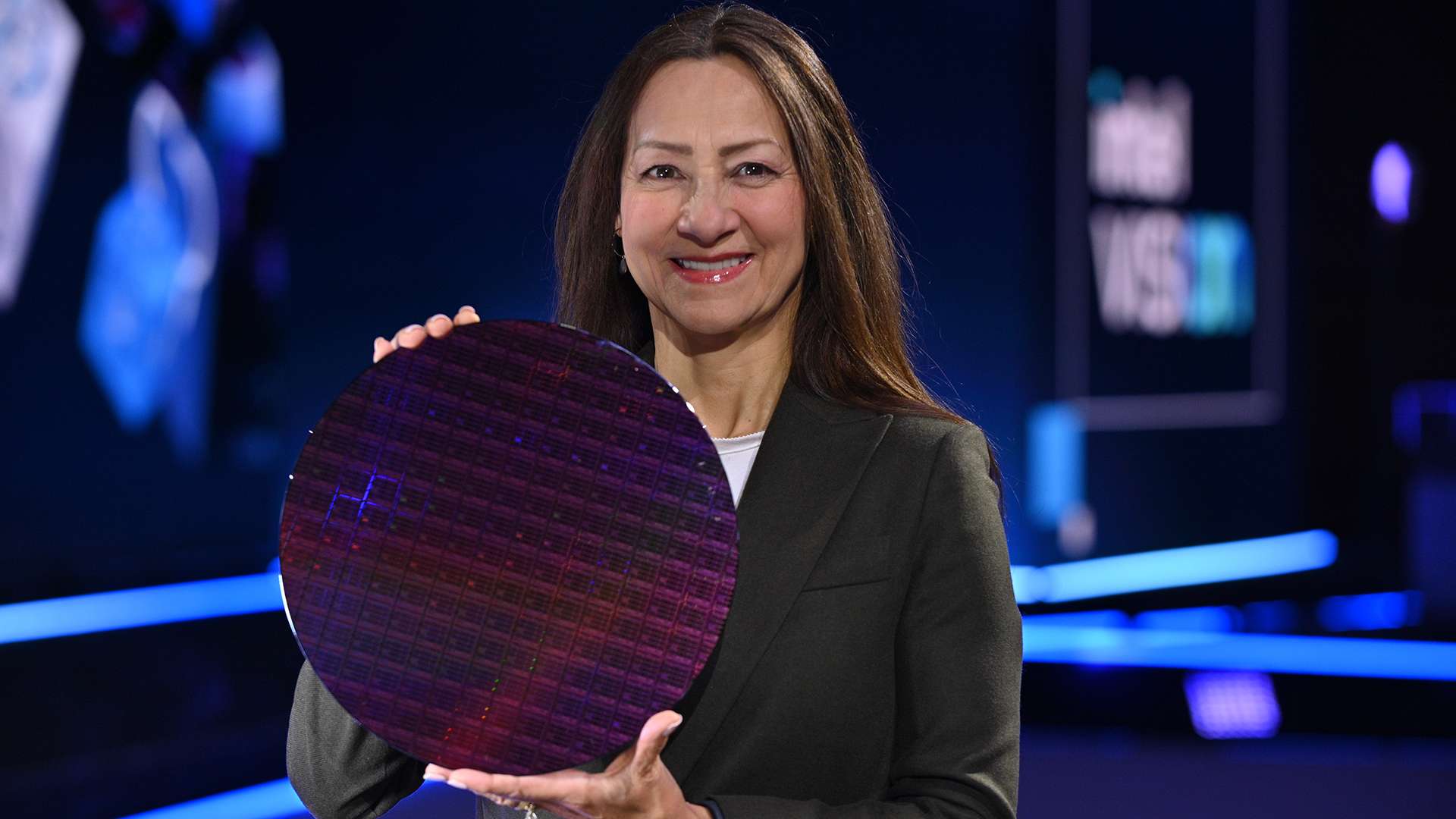 Data Center GPUs – Intel's code-named Arctic Sound-M (inferencing GPU) is scheduled to begin shipping in Q3 this year. Intel's OneAPI base toolkit comes into play here since the new Arctic Sound-M GPU will use same software stack as today's Intel Xeon Scalable Processors and no need for new libraries. Customers will have two options when it comes to Arctic Sound-M GPUs – 75w low profile & 150w full height card. Each solution will be hardware based SR-IOV (single root I/O virtualization) and not require any software licensing costs like their competitors. The AI Xe GPU, code name Ponte Vecchio was called out, but no news on when it expected to ship. The Intel solution could offer customers a better performance per TDP solution that they have today.
IDM 2.0 (Integrated Device Manufacturing) plan
This is key for Intel's future and being able to control their own destiny from a Supply Chain standpoint. Pat Gelsinger mentioned that they are either on schedule or ahead of schedule with their new manufacturing expansion projects. He did stress that it is important for the US House and Senate to finalize legislation around the CHIPS act in order to pass it. Intel's two biggest competitors have not spoken about any plans they have to own their destiny here and will be 100% reliant on TSMC or maybe even Intel in the future to manufacture their products. This is key to our customers since they have been struggling with dealing with Vendor Supply Chain challenges for the last 18 months and the challenge isn't ending anytime soon. Customers need to consider performance, supply chain and data center sustainability components when making hardware decisions today.
Software
Pat Gelsinger called out in the keynote that he has more software engineers working for him today at Intel than he did when he was at VMware. He commented that Intel will focus on SaaS and will look to acquire more SaaS companies and use it as a way to sell more silicon saying, "We believe silicon plus SaaS equals solutions, and you're going to see us doing a lot more of that solutioning." Over the course of meetings with WWT during the week, Intel has made it apparent that they have significant plans to grow their software business over the coming years. WWT has labs and environments that supports OneAPI and OpenVINO today in the ATC and we will be looking to implement a new environment to evaluate Granulate an Intel acquisition just a week ago.
Cybersecurity
Confidential Computing – Project Amber, Intel's 12th Generation Mobile Processor was announced as a SaaS based solution in this area. Project Amber's goals are to protect data in use and to validate the trustworthiness of the environment. Project Amber will be a cloud agnostic, support multi-cloud solutions and will provide a federated service to validate the integrity of the infrastructure.
Secure & Responsible AI – Intel's Greg Lavender discussed this topic and spoke to the costs associated with developing AI models and how important it is to protect those Intellectual Properties. OpenVINO was named as a solution from Intel that can address this security need, even though it isn't its primary purpose.
Anticipation of Quantum Computing Era – Quantum Computing is the exciting future for the High Performance Computing (HPC) and artificial intelligence worlds, but it is also equally worrisome to the security world. The computational power that Quantum Computing beings to the table will render modern encryption methods used to protect data almost powerless to effectively do the job it is intended to do. Intel is focusing on three key areas to protect against quantum attacks:

Increase key sizes from AES-128 to AES-256
Create quantum-resilient algorithms for code
Replace public key algorithms with post-quantum crypto algorithms
Watch the Keynote Highlights From Intel Vision Day 1
Watch the Keynote Highlights From Intel Vision Day 2
WWT receives 2022 Channel Partner of the Year award
At the completion of Intel Vision, WWT was recognized as America's Solution Provider of the Year Award for Growth. Learn more about the recognition.