VMware Cloud Foundation Briefing
In this briefing, we will look at VMware Cloud Foundation (VCF) — both the strategy and the practical implementation. Understanding how VCF works, what its strengths/weaknesses are and how to best utilize VCF within your organization is key to properly leveraging VMware's portfolio. This briefing will help you decide if VCF is correct for your organization and how to get the most out of the software. We will also walk through a live VCF environment. You will see how VCF is built and what the "bring-up" process is like. Additionally, we'll leverage our Dell Tech SDDC Showcase to demonstrate a semi-production state for VCF and review the Day 2 state.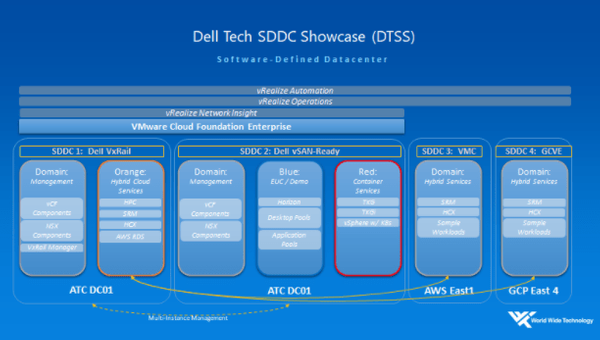 Details
WWT can help organizations plan an effective path to implementing VCF. The WWT VMware Cloud Foundation Briefing is a half-day class designed to introduce all of IT to the key elements of VCF. This session is a combination of strategy and technical enablement. By fully understanding VCF, you will be able to best determine your path forward with VMware's core strategy.
VMware Cloud Foundation Overview: It is important to understand why VCF is so important to VMware's approach. This session will review how VCF has come to exist and give you an understanding of why.
VMware Cloud Foundation Components: VCF represents many different products. In this session, we will review these components and how they are packaged within various editions of VCF.
VMware Cloud Foundation Live Demo: We will explore the initial process for deploying a SDDC with VCF. We'll talk about the deployment process as well as the common mistakes that can happen.
VMware Cloud Foundation: Day 2 Demo: Leveraging our Dell Tech SDDC Showcase, we will illustrate how a properly deploy SDDC will look and feel with VCF. This will familiarize you with what you can expect in a VCF deployment outside of what is available in typical 'nested' labs.
WWT's global technology solutions combined with VMware Cloud Foundation will accelerate your journey to the cloud today, so you can start modernizing your business tomorrow.
WWT relies on VMware Cloud Foundation (VCF) as the starting point for any digital transformation. By bringing together compute, storage, networking, security and cloud management into one enterprise-class, natively-integrated stack, VCF is easy to deploy, simple to operate and enables consistent, secure infrastructure and operations across private and public cloud.